The following report presents results of the Georgian media monitoring for 1-31 March 2016, and activities conducted on the basis of this monitoring.
During the period of the monitoring, particularly frequent were attacks against the liberals using insulting word "liberasts", and against the Republican Party and the United National Movement (UNM), due to their defense of liberal values and constitutional changes regarding marriage initiated by the government. Such attacks also occurred in the context of hate speech, homophobia and anti-Western rhetoric;

The initiative to specify in the Constitution the marriage as the union of a woman and a man encouraged politicians to make homophobic and anti-Western statements. During the monitored period, several members of the Georgian Dream, as well as members of political parties outside of Parliament were especially active in this regard;

During the monitored period, there also were xenophobic expressions against the Arabs and other nationalities, on the basis of fear of more liberal visa policy by Georgia in parallel with the European integration; 
 in this context, concerns were voiced regarding possible "loss" of Georgian lands. As examples of such threat, the growth of Azeri population in Georgia and various historical facts were mentioned;  

Most of instances of religious discrimination in the media were related to the conflict regarding the Muslim cemetery between Muslim and local population in Adigeni Municipality. Disturbingly, besides the local residents, representative of the local government – the head of Adigeni Municipality who does not consider it necessary to protect the rights of the Muslim community - also made discriminatory statements on this issue to the media.

 Disseminated video footage of private life also became a source of inspiration for discriminatory statements. In some statements it was claimed that the footage is discreditable to the women shown there.
Complaints to the self-regulation agencies of media outlets
The NGOs: MDF, Identoba, LGBT Georgia, TDI and GDI filed a complaint to the self-regulation agency of Imedi TV on 30 March 2016. In the complaint, the NGOs request study of violation of Article 31 and Article 33 (1; 2; 4) of the Broadcasters Code of Conduct by Imedi TV news program Chronika from 14:00, 20 March 2016.
On 26 March the council of the Georgian Journalist Ethics Charter reviewed the complaint by the NGOs: Peace Foundation, MDF, TDI and GDI. According to the decision of the council of the Charter, journalist of Kviris Palitra newspaper Eka Salaghaia violated the 1st (accuracy), 3rd (glossing over the fact), and 7th (discrimination) principles of the Georgian Journalist Ethics Charter. The material was published in January 2016 and was dedicated to the performance of the Georgian dance Daisi by the Gevorkian Dance Academy.
Russian language sources:
Obiektivi - Hty ND
Alia - myjane.ru; lenta.ru; medkarta.com; mndg.ru; beta.novoteka.ru; gazeta.ua; woman.ru;
Examples from the results of the March media monitoring:
Karlo Kopaliani (Georgian Dream coalition): "They are like snakes who have changed skin. You how many times snakes change their skin? A snake is a snake, even if you out a blue t-shirt on it, or something. You know the UNM never had more than 20% in the election."
Headline: "Hillary Clinton – lesbian, psychopath, drug addict and the last hope of Saakashvili: the portrait of a U.S. presidential candidate"
Asaval-Dasavali, 21-27 March
Giorgi Gigauri, journalist: "The attitude to sex by this Margvelashvili who is called President and the liberasts who think like him has made it clear, who was born out of love and who is a side result of a sexual act! Our liberasts have finally become like cattle which, as you know, is ready to publicly copulate with other cattle!"
Mancho Giorgobiani (addressing the UNM): "Hitler would suit you well, putting you and your followers into a single ship, you mutant sectants!!! You have ugly souls in your ugly bodies… You are not worth to be kept alive, just like lepers you all must die!!! 
Levan Izoria – former Deputy Head of the State Security Service: "When you have students from a foreign country were terrorism has been established, it is interesting, why are they here, what are their goals?!"
Irakli Sesiashvili, Georgian Dream, Chairman of the parliamentary Defence and Security Committee: "A great lot of foreigners study at Tbilisi University... Unfortunately, there are some attempts to recruit our youth, that is why counterintelligence activities there were justified..."
Obiektivi, Night Studio, 10 March
Giorgi Maghlakelidze, "Patriots Alliance": " ...Any visa liberalization is unacceptable to me and it will make me accept great numbers of people of different nationality, those who are not like us, genetically and religiously different..."
Alia, 9-10 March
citizen: "It's an Indian, there is no point in buying perfume for them".
Obiektivi, Night Studio, 12 December
Anzor Meskhishvili, professor, real estate expert: "They say: let them buy it, they cannot take it away on their backs. But they will settle, just like it is happening in Mtskheta now, there are 4 Muslim villages being formed in Mtskheta".
Maestro, Kontakti; Rustavi 2, Kurieri; Imedi TV, Chronika; Public Broadcaster, Moambe;  Pirweli, Interpressnews, 9 March 
Gogi Topadze, "Georgian Dream - Industrials" coalition: "So, Russia has take over our territories and we cannot talk to Gazprom. You can sell greens and wines though, and if you take this approach, we import so much rubbish from Turkey, and have not they taken over our territories too?"
Obiektivi, Night Studio, 16 March
Vazha Otarashvili, "Patriots Alliance": "The that in your country there is hegemony of such a great historical enemy state, even if today you call it friend - Turkey... They have conquered the agricultural market, TV market, there are Turkish series on every TV channel, while Georgian films are suppressed."
Obiektivi, Night Studio, 17 March
David Tarkhan-Mouravi, Patriots Alliance: " ...This country (Turkey) has not changed its way of thinking. It has always been a conqueror, destroyer, and still is today, and now it is waging the 28th genocide of the Kurds and Yazidis… The genocide of the Georgians happened so many times that the Black Sea was filled with blood..."
Turkophobia /non-government organizations
Lali Moroshkina, Strong Woman – Strong State: "If weapons are used in Turkey, Adjara and half of Guria will go over to the Turkish side. We know what problems Georgia has today: Georgian citizenship has been given to 100 000 Turks; the lands have been sold..."
Father Luka: "What do you think they will do to me if I go to Turkey and through a little stone at a mosque? They are burning Georgians there anyway, and then they would vaporize me.
Religious discrimination / politicians
Zakaria Endeladze, Head of Adigeni Minicipality: "Recommendation is recommendation, it does not have any obligatory character. We take not of recommendations, but I still think that the issue must be decided by the population itself." (regarding rights of the Muslim community);
Religious discrimination / Homophobia / society
Alia, 2-4 March
Soso Tsintsadze, political observer: "They say we go towards Europe… But how are we going there? First: the pederasts' parades must be held freely; second: if there are five Muslims living in a village, we have to build a mosque for them". (regarding the conflict in Adigeni)
Zurab Tabidze, resident of Adigeni: "...This is a taste, then they will get a taste for a mosque, for a mullah, then he will cry out from the height. We shall not allow opening of a mosque. They say that the mosque will not be opened."
Tamaz Mechiauri, Georgian Dream, MP: "It is cynical when such rally starts from Kutaisi – from the city where Aghmashenebeli started to unify the country, while now some people start to make it pederast".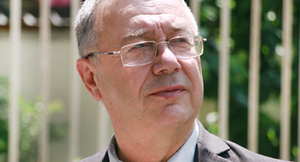 Omar Nishnianidze, "Georgian Dream", MP: ,,What do you want? A pederast rally in Kutaisi? I could not even dream I would see such a thing. I could not dream of it in Kutaisi… in front of my house.''
Obiektivi, Night Studio, 16 March 
Vazha Otarashvili, "Patriots Alliance": "They are about to teach pederastomania at schools and also about same-sex marriage."
Asaval-Dasavali, 21-27 March
Gia Kurashvili, Free Georgia: "They have changed the name of pederasts and call them "Identoba"! These people who had been married 9 times have destroyed many families!."
Jondi Baghaturia, United Opposition Movement: "We have our own views. Homosexuality really is a pathology, this is what people have been thinking for centuries and this is what we still think". 
Zviad Tomaradze, Georgian Demographic Society XXI": "Indeed, homosexuality is a disease! We are facing extinction as a nation, and as to the traditional family, its interests must be protected by this state. And this is a disease!!!
Gender stereotypes/ politicians
Zakaria Kutsnashvili, Georgian Dream: "I don't believe that Tea Tsulukiani can threaten anyone… I don't get it, how can you be afraid of Tea Tsulukiani – especially if you are a man and are an official under the state protection".
Gender discrimination /stereotypes/ society
Obiektivi, Batumi Studio, 8 March
Marina Mikaishvili, journalist, editor of Adjara newspaper: "The men are great and we women recognize that they are better than us. If we look through history, a great lot of men go further than women, we cannot deny this and God forbid that we compete with men in this"...
Tamaz Elizbarashvili, businessman: " Of course, it is immoral to take videos of private life and then publish them. But it is just as immoral for married ladies to be in bed with other men, especially when that other man's "instrument" is used like a Chupa Chups." 
Anti-Western rhetoric/ politicians
Archil Chkoidze, Neutral Eurasian Georgia: " When they were recently cutting heads in Syria, what did Americans or Europeans do? Nothing, zero attention... When they were cutting the heads of little children, 15-years old Assyrian Christians, the Orthodox Christians, then it was like nothing happened, even when they were drowning people in water, just because it was not happening in Europe."
Obiektivi, Night Studio, 22 March
David Tarkhan-Mouravi, Patriots Alliance: "Among these refugees there were terrorists too, everyone knows this. Now these terrorists are blowing up Europe and the worst thing is that this has not touched America itself, but because of totally idiotic actions of the American administration, all these refugees and terrorists are all over Europe now, and we also have these refugees, there are many from Syria, and they are in Armenia also, there are about 140 thousand refugees there...".
Asaval-Dasavali, 7-13 March
Dimitri Lortkipanidze, Burjanadze-United Democrats: "If the European choice of our government means teaching homosexuality to young children, then I don't want such Europe or such government!"
Alia,  14-20 March
Valery Khaburdzania, former Minister of Security: "We are not part of American budget, but otherwise we are just like another American state".
Geworld.ge, 10 March
Iza Tamazashvili: "Our moral code can never accept the norms that Europe and America are trying to impose on us – this is violence against the mind. What do we like about the West? EU is getting stronger and richer while countries like us get poorer".
Asaval-Dasavali, 7-13 March
"...Anchor of the Hty ND TV documentary project 'The Most Shocking Hypotheses': Look, in the middle of Europe, in the afternoon, several young migrants are robbing a helpless girl. They beat the victim, throw her on the pavement and drag her by her hair for several meters. And in Sweden a 15-years old migrant killed a female employee of an orphanage – just for fun. Though often vice versa also occurs, when Europeans attack the migrants..."
Asaval-Dasavali, 29 February-6 March
Giorgi Gigauri, journalist: "Tamar Sanikidze and liberast Sorosians like her want that in Georgia, which they have sold for the grant of 30 pieces of silver, our children to grow up as globalist-cosmopolites without pedigree, faith or identity!.. "
See full collection of examples of discriminatory statements at the website: www.notophobia.ge
Newsletter was developed by Media Development Foundation (MDF) within the frameworks of the Promoting Integration, Tolerance and Awareness Program in Georgia, supported by USAID and implemented by UNAG.

Opinions and ideas provided in this newsletter are those of the Media Development Foundation (MDF) and do not represent the official position of the U.S. Agency for International Development and the UN Association of Georgia.