Dissemination of misinformation in the homophobic context
Alia, Pirweli, 8 April, Geworld.ge, 9 April
Based on a single source – representative of the Free Generation organization, Lado Sadghobelashvili – disseminate unverified information, claiming that Identoba NGO and editor of the '17 May' magazine Irakli Vacharadze is going to initiate a proposal in the Parliament for a law about same-sex marriages, having such task from the National Movement and enjoying lobbying support from a Georgian Dream MP Tamar Kordzaia, who is presented as a member of the Republican Party in the publication.
This information has not been verified with either Identoba, or Irakli Vacharadze, or any other alternative source. The first page of Alia newspaper has a photograph of kissing a gay couple, with the headline: "Is draft law for the same-sex marriages being initiated in the Parliament?"
Lado Sadghobelashvili, Free Generation: "If such a law is adopted, this will be followed by huge agitation, the society will not accept this. After adoption of the anti-discrimination law this is another landmine."
The following violations have been noted in the period of 7-19 April: incitement of individual hatred -1; incitement of violence - 4; xenophobia - 4; unbalanced coverage of religious topic - 1; gender discrimination - 2; sexism -2; gender stereotypes - 5;unjustified reference to the sexual identity -3; homophobia -7, anti-Western attitudes -27.
Below are some examples:
Incitement of individual hatred
Geworld.ge, 7 April
Dito Chubinidze, Asaval-Dasavalijournalist: "You [Nanuka Zhorzholiani, journalist of Rustavi 2] have the smell of that dead bodies which Vano Merabishvili together with your damned husband ordered the Special Forces to get, telling them he needed two dead bodies; and Mamuka Khazaradze smells of the "toilet poets" and "toilet scribblers!
You made Georgia reek, bathed it in the sea of blood and tears, and you, your sponsor Khazaradze and your master Saakashvili dare to talk to the people of Georgia with lofty words?!"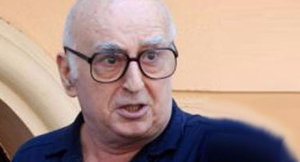 Asaval-Dasavali, 13-19 April, Saqinform, 15 April
Rezo Amashukeli, poet: "When they are thrown on the stadium, bonded, I will kick each of them once, God help me. They must be convicted on the stadium. I openly say in this Holy Week: I need one dead body – that of Mikheil Saakashvili!"
Asaval-Dasavali, 13-19 April, Saqinform, 14 April
Tengiz Kitovani, general:"As soon as Saakashvili comes to Georgia he will get a bullet in his head. He will be executed! I promise you that!"
Netgazeti, 9 April
Alexander Akhalkatsi, 'Rights' Defender' coalition: "Ms. Tea Siradze is in jail for beating 5 Indian students, who insulted her verbally and physically… I ask to share this everyone for whom citizen of Georgia is more important than swindler and criminal foreigners!".
Reportiori, 12 April
Zaza Gabedava, emigrant living in Moscow: "Look Georgians, Chergolyan does not like how Georgian media reports on the Holy Fire ritual! She says – you said nothing about Armenian Dashnaks, so perhaps we should have glorified the Jehovah's Witnesses too? This is another proof that the Gnatz [National] Movement is anti-national and they betray Georgia!"
Asaval-Dasavali, 13-19 April
Tengiz Kitovani, general:"Saakashvili gave Georgian citizenship to thousands of people. Foreign tribes have taken over Georgian lands. And at this time Margvelashvili is taking citizenship from me."
Geworld.ge, 8 April
Givi Somkhishvili, writer: "In the south the Turks dominated – Adjara and the Black Sea coast was considered to be their land. Imereti, Guria, Samegrelo, Abkhazia – each of them were in the Turkish jaws. What independence did Russia take from us?!.. Did Russia force us to sell lands to foreigners, or did our Euro-Atlantic friendswag their finger, which was followed by the angry sounds from the NGOs who serve the Americans and the anti-Georgian action by the Constitutional Court that had been chosen by the Nationals."
Unbalanced reporting on religious issues
The head of the Patriarchate foundation Lasha Zhvania, invited to a TV show on Maestro, spoke about the Patriarchate's position on the ritual known as "Easter fire descent' from Jerusalem, which concerned participation of the Armenian Church in this ritual. Armenian Church has a different approach to this ritual. The TV show anchor did not ask any questions in this regard, nor was the balance maintained by inviting a representative from the Armenian Church or reporting their interpretation of this ritual in the next issue of the TV program.
Geworld.ge, 8 April
Bakur Svanidze, author: What the women with certain psychology are saying and the demands they have on their rallies, are beyond any logic and once again strengthens the idea of the misogynists (women-haters) that the women don't have brain!.. I ask you to understand this and please, don't follow behind the mind-sick and degraded creatures of your own sex ...
I wonder if the unicellular creature depicted on this photograph actually knows what Parliament is [the photograph shows a woman with the poster: "men to the kitchen, women to the Parliament"]?"
Asaval-Dasavali, 10-19 April
Rezo Amashukeli, poet: "I advise many women to leave the TV, because some of them now look like a buffalo, and some of them don't know what to do. These toads grown by Rustavi-2 create disturbance in Georgia and a civil war begins on TV shows…
At that time this disorderly woman – Nanuka Zhorzholiani – was taking whores to expensive resorts – some of them sat on camels, some on donkeys, and some – on something else!"
Kavkasia, Barieri, 7 April
Irakli Batiashvili, People's Assembly: "It is very pleasant to listen to such a beautiful girl [Nino Lapiashvili], but can you the people with such way of thinking to be sitting on you head and lecturing you for 9 years?!"
Kviris Palitra, 8 April
David L. : "...They said it was a Ukrainian woman… There are many women of the oldest profession in Tbilisi, including Ukrainians..."
Maestro, 9 o'clock news, 7 April
Giorgi Guraspashvili, Gamgebeli of Khashuri Municipality: "He [Eldar Niniashvili] is a usual gossiping wench."
Maestro, 9 o'clock news, 15 April
Natia Akobia, journalist: "The head of the family [man] was diagnosed with delusional disorder several years ago."
Maestro, 9 o'clock news, 14 April
Vakho Gaprindashvili, journalist: "They preferred football boots, field and fighting sports to heel shoes, makeup and evening dresses."
Asaval-Dasavali, 13-19 April
Berta Khaphava, actor: "I never liked Margvelashvili. Now he calls us to gender equality. I am a woman, but I hate when women have official positions. They must not be given the chair. I got convinced of this when the Nazis appointed wretched women to official positions."
Unfounded claims regarding sexual identity
Asaval-Dasavali, 13-19 April
Dito Chubinidze, journalist: "Mamuka Khvedeliani, found guilty of sodomy"...
Geworld.ge, 17 April
Zurab Kvaratskhelia, author: "In the program of a person of unclear orientation, cartoon-like Gia Jajanidze"...
Netgazeti, Imedi, Chronika, 12 April, Pirweli, 13 April
The Patriarch's Easter epistle: "But the Godless man still has not found the main thing – the meaning of life, nor did he solve the secret of death… That is why the society that thinks like this has come to legalization of sin and unnatural relations."
Obiektivi, 8 April
Koba Kobaladze, Georgian Dream: "There are now some political movements, which are based on ideology and… are not based on gentle young men"
Asaval-Dasavali, 13-19 April, Reportiori, 10 April
Rezo Amashukeli, poet: "They say that homosexuality is a disease and is not shameful, if it is not shameful, then why do you hide your pederasty, you Conchita-bastards?!...
Shall we leave Georgia to these pederasts? Saakashvili came and created the society of uneducated whored and educated pederasts, which has conquered all the TV space and which oppresses the majority."
Alia, 8 April
Lado Sadghobelashvili, Free Generation: "I was surprised by the attitude of Gubaz Sanikidze, who said he was not sure whether homosexuality is a disease or not… I think it is inherited. I am not sexologist and psychologist "...
Geworld.ge, 7 April
Giorgi Gigauri, journalist: The grant-having prick Identoba, which already issues its own LGBT magazine (with a fine name "17 May"!), is jumping out of its underwear in order to establish the lesbian-gay-bisexual-transgender filth in Georgia!.. Georgia has as the President the creature which, unlike the absolute majority of his compatriots, believes that sodomy is a normal thing and that sodomites and lesbians have the freedom of gatherings and rallies!"
Asaval-Dasavali, 10-19 April
David Isakadze, deacon: "This is exactly how pederasty got legalized all over the world! Now they are forcing us to call them "gays". In the West children euthanasia, pedophilia, incest are highlighted. All this is needed for creation of the obedient society, which is not surprised by anything and does not have the feeling of protest."
Russian sources in the Georgian media
Internet portal Saqinform relied on the following Russian sources and their one-sided claims whileinciting anti-Western sentiments: tvzvezda.ru, rubaltic.ru, iarex.ru
Among the identified Russian sources of the internet portal Geworld.ge was REGNUM. They also reprinted information from rubaltic.ru without identifying the source, which was published in Saqinform.
GEWORLD.GE, 8 April
Nino Burjanadze, Democratic Movement – United Georgia: "The scenario of the ongoing events in Georgia is written in Washington, which may put us into a trouble ."
Asaval-Dasavali, 10-19 April, Reportiori, 14 April
Tengiz Kitovani, general: "When they say we are going to join NATO, this is only to deceive people! Ukraine lost out with such policy – they lost a huge part of their country! They thought Americans and Europeans would help them out, but they just care about themselves.As soon as Russia wagged its finger to them, they retreated".
Saqinform, 10 April
Russian source: iarex.ru
Arno Khidirbegishvili:"Prime Minister Garibashvili did not go to Mukhatgverdi cemetery for the burial of the heroes of the war of August 2008 – Georgian soldiers!"– who will dare to answer to the traitors and Pharisees that they were the victims of a bloody
provocation which Saakashvili started only for Senator John McCain to become President on the anti-Russian wave?!"
Geworld.ge, 8 April, Saqinform, 9 April
Russian source: rubaltic.ru
Alexander Chachia, political observer: "If we consider that both in the Baltic states and in Georgia the true masters are American ambassadors, and that they behave like Governor Generals in the colonies, then the term "new post-Soviet Baltics" is correct.... I believe that Georgia must define what it is and what kind of future it wants: either it remains a state where traditional Christian values dominate, or it continues to degrade and turn its own population into biological mass without a nation, just like its Western overseers want".
Russian source: tvzvezda.ru
On the video that goes with the news about a protest rally in front of the American embassy in Kiev there are only several hundred people, not 2500 like the text claims.
Headline: "We are not cattle!" – thousands of the Kiev people threw dung at the US embassy!"
Geworld.ge, 8 April
REGNUM, Allgemeine Morgenpos tRundschau: "They [Americans] don't care where the world war will start, because only such war will allow USA to retain its leadership in the world. Without this war Russia and China will bury America, which is based on blood, and will establish the new world order."
Geworld.ge, 8 April
Giorgi Kordzadze, author: "If for us Georgians gang rape of a child is wild thing, for Norwegians it is not new! Such bestiality is their national trait, which, probably, comes from the Vikings period!... Slowly and purposely, Satanism is getting legalized!..
So Georgians, think from which side the chosen side of Satan – the Antichrist – is crawling on you? From the self-styled "Georgian" John McCain's step-child - the cruel terrorist "Islamic State", from the US, which does not want to pay its huge debt and does all abominable things to destroy the creditor countries, or from Europe with its "sexual revolution"?!"
Imedi, Reaktsia, Reportiori, 17 April
Nikoloz Mzhavanadze, Rights' Defenders Union: "I think that by this [removing Adeishvili from the wanted list of Interpol] certain forces in the West want the Georgian government to say – we don't want either EU or NATO, and then certain forces in the West will claim the government to be pro-Russian and turn the people against it, just like it happened in Ukraine."
Obiektivi, Night Studio, 15 April
TV viewer: "I seriously suspect that if we have such a referendum [on NATO] today, I would seriously consider whether to make such a choice.
Bondo Mdzinarashvili, journalist: America has its sons of bitches, in many countries, they had them in the past and will have them in the future, they also have them today,
and Saakashvili is one of America's sons of bitches. "
Reportiori, 17 April
Archil Chkoidze, Eurasian Choice: "Our main goal is to hold a referendum, because we believe that the 2008 plebiscite was rigged and does not represent the will of the Georgian people. The Georgian people do not want NATO and EU".
Rezonansi, 17 April
Igor Kveselava, political observer: "I agree with Nino Burjanadze when she says that events like those in Ukraine can happen in Georgia. This is about the processes in Kiev known as Maidan, behind which stood the US… Such events can happen again and US will certainly be behind them."
The newsletter was made possible by generous support of the American people rendered through the USA Agency for International Development (USAID).

The contents of the newsletter are responsibility of the Media Development Foundation (MDF) and do not necessarily reflect the views of the USAID and USA.