In this newsletter: Happy Spring, Retreat News, Customer Request, Customer Show & Tell, Treasure Totes, Collector Programs, Fun Stuff (free patterns), Dione's Stitching.
Happy Spring!
I'm a little late for Easter, but I'd like to wish all our customers a happy Spring! I'm sure it can't come too soon for many of you on the Prairies and Eastern North America.
I'm sooo looking forward to Alison Cole's visit and Retreat in just a few weeks! I will also be attending the Embroiderers' Association of Canada's Seminar 2015 just a week after our Retreat, and I'm lucky enough to be taking classes from both Alison and Hazel Blomkamp. What an exciting May!
I'm also excited to announce that we have hired a new person to our team, Renée Clark. Renée has experience in working in a needlework shop and like most of us is interested in a variety of needlework techniques. Renée will run the shop during the week the rest of us, Bunny, Carol, and I, will be at Seminar. Carol will be running the shop in the Merchant Mall at Seminar, and Bunny and I are both taking classes. I hope you will all join us in welcoming Renée to the shop!
There's still time!
We've found some extra room in our Retreat, so if you've been procrastinating or waiting for your ship to come in (and it suddenly has...), we might be able to squeeze you in for our Retreat!
The kits have arrived, and I can vouch for how wonderful the supplies look. I can't wait for Alison to get here so we can stitch, relax, and learn for two wonderful days.
Let us know as soon as possible!
Customer Request
Can anyone tell us of a contact for Brazilian Embroidery classes or a group in the Lower Mainland? There is someone who would love to learn but we don't know who to refer her to!
Contact the shop at 250-591-6873 or email to Brazilian Embroidery contact
Customer Show and Tell
This gorgeous tablecloth was stitched by Elaine Mukli, one of our customers. It is absolutely stunning - a work of art. She's been working on it for a while. We'll post some photos on our Facebook page as well in the next few days.
Following Nanaimo's pirate theme, we are introducing Treasure Totes - get $25.00 of needlework supplies for only $12.00, or $100.00 for $40.00 ! Each tote will contain some or all of the following:
charts and/or patterns
threads and flosses
notions - needles, tools, etc
Our choice of contents, and like Christmas presents, no peeking!
Splendor Collector
Receive 4 cards of Rainbow Gallery's luscious Splendor 100% silk 12-ply embroidery floss per month for $19.25 including shipping to anywhere in Canada!
Edmar Collector
Receive 2 skeins of Iris, 1 skein of Glory, and 2 skeins of either Bouclé, Ciré, Frost, Lola or Nova in any combination. $9.50 per month including shipping to Canada.
Both programs represent a 15% discount on the price of the threads. We track which colours you already have - so minimal duplicates!
Shipping to other countries will cost extra - please contact us for details.
I have a suggestion.... (email a suggestion for the Thread Collector Program)
To sign up online, please click on Splendor Collector or Edmar Collector
In our local Guild, we are challenging ourselves to make biscornus, so I thought I would include a few free patterns for these fun little pincushions.
What is a biscornu? The word itself means odd or bizarre in French – it's actually an adjective, but in recent years it has become a needlework term for an oddly-shaped pincushion. It isn't limited to a pincushion size, however. Enlarged, they make a great pillow or cushion for couch or bed.
If you need instructions for finishing a biscornu, here's an excellent blog post: Making a Biscornu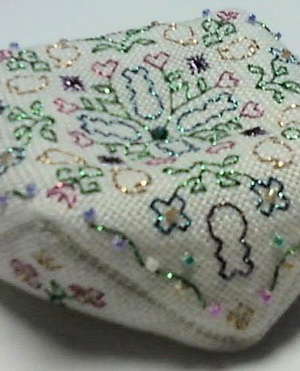 Lovely spring-themed biscornu pattern by Tor-Rhuann Designs. Stitched all in metallic threads - a bit of a challenge but OH look how pretty and sparkly!
Click on the photo for the pattern, or here.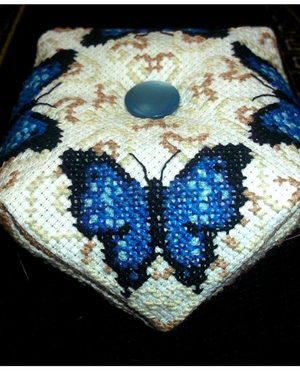 Love butterflies? Then you'll love this colourful biscornu pattern!
Change up the colours to your choice for a different look - how about yellow or maybe stitche each butterfly in a different colour? Think jewel-tones, pastels, or brights.
Click on the photo for the pattern, or click here.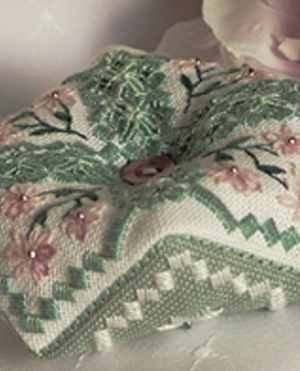 Here's a variation on Victoria Sampler's Summer Biscornu. For the orignal pattern and 2 variations, click here.
For the biscornu colours shown above, click on the photo or here.
I thought you might like a peek at what I am working on at the moment.
First up is a biscornu (yes - it is an oddly shaped piece of needlework - although not the more common square-on-square shape) by Just Nan - her 8-Point Star Garden. I just loved working on this and it was fun to put together - although a bit of a challenge, too. The photos are above. What do you think?
Pattern available here. The embellishments are included. I substituted the bunnies' tails and the sheep with Rainbow Gallery's Wisper, and I changed the background fabric as well.
Next is a more traditional biscornu but a non-traditional stitching method. Based on Hardanger but with some very different stitches and patterns, this is Hardanger Carpacar's Alba pattern. This was a challenge for me because I'm not overly fond of Hardanger, however by the time I had stitched the border, I was hooked. I am using Valdani hand-dyed perlé cottons, a solid DMC perlé cotton and will be adding beads. I am SOOO enjoying this and can't wait to start on the scissors fob and the envelope folio.. Photos are below: