The following tendencies have been noted in the period of 23-29 March: calls for violence - 3; xenophobia – 3; Turkophobia – 3; racism - 1; religious discrimination -1; homophobia -10; gender stereotypes - 4; discrimination of people with disabilities -1; anti-Western sentiments -33.
Some of the examples are given below:
Asaval-Dasavali, 23-29 March
Koba Otanadze, Colonel: "Saakashvili's sect cannot come back!.. These bastards must be beaten and killed and the National Movements deserves to experience what the Nationals have done to the Georgian people!"
David Akubardia, anchor: "You were wrong, you proclaim solidarity with that Jewish firm [City Park]… Even Shah Abbas could not overcome us Georgians, and who are these mongrels? How dare they put their columns here! Damn them!"
Asaval-Dasavali, 23-29 March
Ketevan Kiknadze, actor: "Our land is as fertile as centuries ago, why should some Arab grow fruit gardens here, and why should Georgian, who has same land, have ravished land?"
Givi Gureshidze, political observer: "Not a piece of Georgian land should be sold to the foreigners ".
Imedi, Reaktsia and Reportiori, 27 March
Father Antimoz Bichinashvili: "If you walk [on Aghmashenebeli Avenue] today, there are groups of Turks and brothels opened, where Turks go at night and young Georgian girls are prostituted. What ideology is this?"
Tariel Gagnidze, Historical Heritage: "If the Russian army did not stand here, very probably Turkish army would, and if I have to choose, I prefer Russian army."
Asaval-Dasavali, 23-29 March
Rezo Chokhonelidze, businessman: "Do I have to change my surname into a Turkish one to be able to do something in Batumi?!"
Obiektivi, Night Studio, 28 March
Malkhaz Sinauridze, former director of prison: "I don't demand anything else, let them question me, not put me on trial like a Negro, excuse me, this was a bit awkward statement"...
Guram Palavandishvili, Burjanadze-United Democrats: "An author who has graduated from the seminary [on the letter by Gigi Ugulava]… cannot but know about the Orthodox Christians considering other confessions to be false Christians, heretics."
Guram Palavandishvili, Burjanadze-United Democrats: "Sodom and Gomorra which God burned and destroyed because of sodomy and such, incest and other sexual deviations...
But probably for this author [Gigi Ugulava] authority is not decision of the Ruisi-Urbnisi Council, but the new psychiatrists and bribedpsychologists, and councils and decrees of Identoba and other such dirty organizations ...
When they send a little child, against his will, to be adopted by the same-sex family... I hope that there is the last step that may break on this dirty immoral ladder, and destroy the doctrine of sodomy that has been elevated to the level of state religion in the West."
Asaval-Dasavali, 23-29 March
Elizbar Diakonidze, deacon: "In order to defile the Christ's Robe Saakashvili began to popularize sexual minorities and other filth in the country"...
Antimoz Bichinashvili, former Archimandrite: "Nobody fights against the person with deviations."
Asaval-Dasavali, 23-29 March
Koba Arabuli, writer: "How could one talk to murderers, robbers, homosexuals and rapists?"
Kviris Chronika, 23-29 March
Giorgi Jikiashvili, journalist: "As a result Georgia has got the generation which fights to protect the sodomite Vacharadze and his cause, for the "human rights"."
Obiektivi, Night Studio, 28 March
Antimoz Bichinashvili, former Archimandrite: "When you demonstrate this and try to establish this… this means unsheathing the sword and attacking the people and the Church"...
Asaval-Dasavali, 23-29 March
Gogi Tsulaia, Free Georgia: "... When, unfortunately for us, taking used women as wives is not shameful anymore, I don't know what is the problem with a used computer!"
Maka Bregvadze, journalist: "Guguli Maghradze wished for a woman President, to strengthen the weak sex in Georgia."
Inga Grigolia, anchor: "So, the families' other halves who are active irritate you?"
Mamuka Charkviani, singer: "When I turn on TV, there are horrible things… Sometimes I cannot tell a man from a woman. Someone says "I used to be a boy, now I am a girl", some say "I was a girl but I wanted to be a boy". What the hell is this?!"
Discrimination of people with disabilities
Headline: Arno Khidirbegishvili: "Saakashvili Naz-downs could not gather more than 2 thousand supporters in Georgia!"
Asaval-Dasavali, 23-29 March
Gogi Topadze, Georgian Dream: "Remember, how NATO planes bombed peaceful residents of Yugoslavia! Remember what NATO did in Iraq – pretending they were looking for the chemical weapons, and destroying the country under this pretence, its population, president and his family, but then it was found there were no chemical weapons in Iraq. What other examples of NATO being an aggressor should I recall? Afghanistan, Libya, and so on."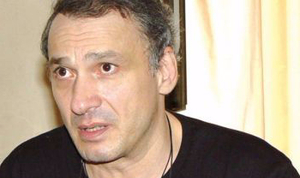 Zaza Papuashvili, Georgian Dream: "Tell me, during the war of 2008 what help did we get from our friends? Only concerns, water and Pampers?!"
Nino Burjanadze, Burjanadze-United Opposition: "All Georgia is used to the fact that ratings of our political leaders are written in Washington [re: IRI survey], and they write it according to what Washington wants to see in Georgia, not according to what the population of Georgia wants, or what Georgian people need."
Guram Palavandishvili, Burjanadze-United Democrats: "Economic strength and domination of the West has developed based not on the true religion, but heretical, false Christian ideology."
Obiektivi, Night Studio, 29 March
Emzar Kvitsiani, Patriots Alliance: "... This is all caused by rude intervention by foreigners in the governance of our country. This is the reason for all this, and after all, if the government cannot do this, then we should proclaim the National Movement to be a terrorist organization, and then the lobbyists they have abroad must be proclaimed non grata persons and should not be let into Georgia "...
Asaval-Dasavali, 23-29 March
Zviad Gamsakhurdia, President of Georgia [from the archives]: "Their goal is genocide of all other peoples; except one particular group of the planet's population. This group is closely connected to the United States and Europe and desires global domination. In general, I would call this Euro-American imperialism."
Asaval-Dasavali, 23-29 March
Goga Khaindrava, director: "Yes! People like McCain and Verner discredit democracy, because they protect immoral criminal thief and shameful person Mikheil Saakashvili."
Father Elizbar Diakonidze: "Let go America and let's look after ourselves. The common religion obliges to become firm neighbors to any neighbor "
Rezonansi, 25 March
Khatuna Lagazidze, European Values Institute: "Providing Ukraine with lethal weapons is aimed at drawing Russia deeper into the conflict and so guarantee the unity of European countries against Russia, because in Ukraine today is struggle for Europe between America and Russia."
Gulbaat Rtskhiladze, Eurasia Institute: "Today our pro-Westerners are trying to depict fascists as humanists, to demonize Russia in everything and to cause artificial conflict between our countries. That is why we must remind that Nazism and fascism have disgusting face. Ukraine of today is not an example to be followed for us, but a terrible lesson, how we should not act."
Givi Gureshidze, political observer: "One of the leaders of Javakheti Armenians Aghasarabian is threatening and warning us: "If Georgia joins NATO, we shall launch movement to separate Javakheti from!"
Obiektivi, Night Studio, 29 March
Vakhtang Chologhava, TV viewer: "If we don't stand firmly and don't overthrow American embassy, that bastards… They support this cohabitation and this trouble, this is the source. Just call, and all of us are beside you, my dear [addressing Irma Inashvili].

The newsletter was made possible by generous support of the American people rendered through the USA Agency for International Development (USAID).
The contents of the newsletter are responsibility of the Media Development Foundation (MDF) and do not necessarily reflect the views of the USAID and USA.