The following facts have been noted for the period of 23 February – 2 March: discussing a criminal incident in the xenophobic context -1; Turkophobia/Islamophobia -2;Xenophobia -5; religious discrimination -2; justification of violence - 1; homophobia - 14; gender issues -2; anti-Western sentiments -15.
Asaval-Dasavali, 23 February - 2 March
Dima Jaiani, Minister of Education and Culture of Abkhazia: "I am not against the people of non-traditional orientation, but I cannot accept propaganda, my grandchild must not be asking me why a boy is kissing another boy. I have noticed that when TV channels want to take an interview from a representative of any sphere, let's say chair craftsman, they choose a gay and record him."
Discussion of a criminal incident in the xenophobic context
Rustavi 2, Archevani, 24 February
Zviad Dzidziguri, Vice Speaker of Parliament: "An Iranian tourist came, he had 3 dollars in his pocket and sandals on his feet, and he cut the throat of Mariam Kochaladze, little Adjaran girl. We cannot have anyone who wants to go through Georgia, there must be regulations"...
Reportiori, 23 February
[from archives]
Murman Dumbadze, MP: "We are absolutely against the 19th century mosque of the conqueror Ottoman Empire, the conqueror Sultan Abdulla Azizie, to be constructed in Batumi…
The danger is in its political and ideological plans. Do you know how many children they have taken from Batumi for free? How do they choose these children and what is their interest to take and teach Quran to 3 000 kids? What kind of interest does Turkey have?"
Kavkasia, Spektri, 23 February
Murman Dumbadze, MP: "...She [Maia Panjikidze, former Minister of Foreign Affairs] goes and makes a huge mistake in her phraseology, that Adjarans are Georgians too and have the right to pray".
Kavkasia, Spektri, 25 February
David Akubardia, anchor: "What comes from Turkey, Ukraine, Iran and damned China, 40% is not produced locally. What the damned Misha put into infrastructure is enriching other countries' economy."
Iakob Lezhava, author: "If the agricultural lands, water, rivers, forests, fields and natural resources is sold... and the owners of all this also settle their families (with the government
support tens of thousands of Turks, thousands of Chinese, Indians, Arabs and Africans have been settled already)… In the near future we shall stand before the fact of extinction of the memory of Georgians"...
Asaval-Dasavali, 23 February - 2 March
Paata Koghuashvili, professor: "The foreigners cannot take Georgian land someplace else, but they will settle in this country, so that we Georgians shall be a minority in Georgia!"
Asaval-Dasavali, 23 February - 2 March
Headline: "Vazisubani peasants have won against the Kizilbashs and taken back their fields!"
Kviris Chronika, 23 February - 2 March
Giorgi Jikiashvili, journalist: "Regarding
ethnic minorities and their languages, what can we do about the tens of thousands of Armenians and Azeris who live in Samtskhe-Javakheti and cannot say even a couple of words in Georgian What can we do about ten thousand Turks to whom the criminal Saakashvili gave citizenship?!"
Geworld.ge, 25 February
Zurab Tsutskiridze, author: "...When the Roman Pope said recently that the pederasts (he used the term "homosexuals") must be accepted in the Church too. What else can be expected from the religious leader of the morally bankrupt peoples?"
Goderdzi Sharashia, journalist: "[Basil Mkalavishvili who had been arrested for assaults against Jehovah's Witnesses and Baptists] thinks that he was right when he physically confronted the Liberty Institute. He only regrets cutting the hair of various sects' members on the form of a cross together with his followers...
Basil Mkalavishvili, priest: "...Bokeria and David Paichadze were leading their rubbish – the Jehovah's Witnesses and attacked us the 30 men, and then our followers came back and there was a physical fight. All these sectarians are led by Bokeria.
Goderdzi Sharashia, journalist: Did you want to beat Bokeria then?
Basil Mkalavishvili, priest: Bokeria got enough and the congregation members still threaten him. If he confronts the Orthodox Christianity again we shall physically beat them."
Justification of violence
Zurab Tsutskiridze, author: "The magazine (Charlie Hebdo) that insults the most sacred religious feelings is not terrorist and those who punish them are?.. If someone desecrates the grave of my father fallen in the war, and says dirty things about my mother, and I then put a dagger in his stomach, shall I be a terrorist?"
Archil Chkoidze, Chairman of the Eurasian Choice coalition: "We see some talk shows on Rustavi 2 and Imedi, which have lately become the propaganda of not only homosexuality… and lesbianism, but we also see even worse abomination, when they show a former woman who has turned herself into a man… And these lesbians, and, forgive me, players with their asses, must go around and do whatever they want...
Shalva Ramishvili, anchor: Let's decide, is this an illness or a crime?
Archil Chkoidze: Both simultaneously… Because this is an illness of flesh and horrible sin and crime for the soul.
Maia Stepnadze, producer of Gia Jajanidze's show: I wonder where did you see us propagating homosexuality and other immorality...
Archil Chkoidze: Propaganda of sodomy must be punishable by the law.
Jondi Baghaturia, Burjanadze-United Opposition: "...Prior to 1998 homosexuality was considered a pathology by the World Health Organization, a psychological pathology, an illness. I still think that this is a pathology."

Asaval-Dasavali, 23 February - 2 March
Nikoloz Mzhavanadze, The Rights Defenders Union: "...Everyone had a thought at once that
Zhvania and Usupov were engaged in immoral practices in a secret apartment… That sick Vacharadze is always on TV when he wants it, but now he is very silent!"
Asaval-Dasavali, 23 February - 2 March
Giorgi Gigauri, journalist: "With the help of this person [David Sakvarelidze, Deputy Prosecutor General of Ukraine] Adeishvili was committing what we here call immorality!...
In fact, they should not be surprised about this in the Ukrainian government, since their Minister of Internal Affairs Arsen Avakov is also openly gay!"
Asaval-Dasavali, 23 February - 2 March
Giorgi Gigauri, journalist: "They invited the "chief woman" of the LGBT Identoba Irakli Vacharadze to meet Margvelashvili in the Avlabari Reichstag! "
Asaval-Dasavali, 23 February - 2 March
Theodor Gignadze, deacon: "I think, surrogacy and giving the children born of it to the same-sex couples is a crime, which is allowed only in 3 or 4 European countries, and Georgians decided to be like them in this filth?!"
Kviris Chronika, 23 February -3 March, Alia, 26 February
Tamuna Mchedlishvili, journalist: "Why does not Georgian government pay attention to the fact that small children are being taken abroad with falsified documents, and to the gay couples too?
Tamar Khachapuridze, Momavlis Imedi: [names children who, according to her, have beengiven up for adoption to the gay couples]... Numerous children conceived with Georgian genetic material have got into the hands of the foreign people with abnormal sexual orientation, and this continues even now."
Kviris Chronika, 23 February -3 March
Giorgi Jikiashvili, journalist: "Yes, the society which, thanks to the TV stations of Saakashvili, is disoriented with the play of the ass of the pederast Jajanidze, Kesarias and Matsatsos, does not even notice what a disaster is happening among us".
Alia, 26 February
Lela Mikeladze: "He does not accept he is a homosexual, and someone should help him, lest this turns into pedophilia too… Maybe someone can help Konchita".
Geworld.ge, 26February
Zurab Tsutskiridze, author: "The liberasts will never see me calling pederasts the soft name "gay"!"
Kviris Palitra material for 2013
Zviad Iremadze, globalization researcher: "The medicine, pedagogy,
sociology and other fields scientifically prove that a child physically and psychologically normally develops only in a traditional family, which is established by the will of God. In other case there is a huge risk that the child will become asocial, crime prone, sexually deviant person. "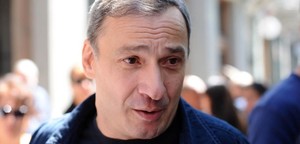 Asaval-Dasavali, 23 February - 2 March
Zaza Papuashvili, Georgian Dream: "Look what the TV channels look like! They talk about some idiot beating his wife, or hitting his wife's head with something, why is this given such a high rank and why do they have such hysteria about this on television?! Who needs to speculate with this issue, and what purpose does this propaganda serve?!"
Asaval-Dasavali, 23 February - 2 March
Levan Vasadze, businessman: "Propagating the issue of domestic violence by the media is prerequisite for strengthening the fascist juvenile justice and the role of social services, and for weakening the families."
Asaval-Dasavali, 23 February - 2 March, Reportiori, 24 February
Zaza Papuashvili, Georgian Dream: "I don't want my country to be squashed and destroyed in the clash of two super-powers! We cannot keep saying, like crazies – we are pro-European, pro-American, pro-Russian, pro… pro… pro… Tell me, what kind of help did we get from our friends in 2008? Only their concerns, water and Pampers?!"
Valery Khaburdzania, former Minister of Security: "Do not be more American than Americans themselves [to Irakli Alasania], stop supporting stationing of American bases and missiles in Georgia, do not undermine the already weak reputation of the present government in America, and then I will also stop everything and look after tomatoes in my greenhouse in Kutaisi."
Kviris Chronika, 23 February - 2 March, Saqinform, 26 February, Reportiori, 23 February
Rezo Amashukeli, poet: "... Why do we call Americans our friends and the closest partners, if their high-level official [Victoria Nuland] comes and plans for the coup, bloodshed and numerous troubles?..
They know only blackmail, lies, blood, slander, getting money and slavish service of McCain...
This old Europe, where they have killed God and don't know already whether to take wife, marry mother or father, has put sanctions on Russia...
The representatives of the Dream say that going to NATO is the firm will of the Georgian people, but who asked about the will of the Georgians?.. Ask around and you will see whether they want pederasts or men in Georgia."
Iakob Lezhava, author: "America wants to dominate the world, and it does so through militarily and, mostly, economically subjugating countries, for which they use bribing officials and conducting the policies they want through corrupt governments. Through the credits of the World Bank and IMF they enslave the poor states and make their population remain poor."
Zurab Tsutskiridze, author: ""The laws adopted by the modern European countries and US, which contain mortal threat under the pretence of human rights, remind me the agony of immorality of the last days before the fall of the Roman and Byzantine empires... The law about legalization of same sex marriages, about legality of incest (sexual relationship between brother and sister, parents and children)".
Iza Tamazashvili, author: "National values and pro-Western aspirations are contradictory to each other… Europe supports falsehood and fascism (Ukrainian example) – these are their values!"
Asaval-Dasavali, 23 February - 2 March
Irakli Gurchiani, head of Toyota Center: "Why do they want our children to be pederasts and lesbians?.. Today the only force to stop the globalists is Orthodox Christianity. And there is a war ongoing against it. That is why they ravaged Serbia! We also are in their aim. While the Patriarch lives I am not afraid, they will not achieve their goal, but let it not happen one day that they put a sodomite in the chair of the Patriarch!"
Asaval-Dasavali, 23 February - 2 March
Irakli Kakabadze, author: "You think this mafia (transnational media) does not have Interpol and even FBI in their pockets?! Do you know how much money they pay to John McCain?.. McCain's assistant Rendy Shurveman is a lobbyist of an arms-selling group...
Today the whole of humanity is taking part in the neo-liberal corruption! The world is ruled by the trans-national capital! Ukrainian events are also caused by this!"
Asaval-Dasavali, 23 February - 2 March
Nikoloz Mzhavanadze, The Rights Defenders Union: "...They staged a coup
in Ukraine, let it lose Crimea, Donbas, and now they say that an EU mission must enter the conflict zone!"
Asaval-Dasavali, 23 February -3 March
Mikheil Tsagareli, astrologer: "I cannot see NATO and don't want to see it, if we let NATO enter we make Russian an eternal enemy, which won't damage NATO or Russia much, but Georgia will be squashed."
Asaval-Dasavali, 23 February -3 March
Guram Chavchanidze, pensioner: "I wish you could look into the soul of Uncle Sam, and see who is this rascal – that Obama and Bush are far away, while Russia is right here!"
Obiektivi, Night Studio, 24 February
Lali Moroshkina, PR specialist: "There is such a large scale of pedophilia and violence against children in France, and European countries in general, that… a child cannot move alone, so dangerous it is ".
Kviris Chronika, 23 February - 2 March
Giorgi Jikiashvili, journalist: "Yes, Nanuashvili, who is directly tied to and lives off such woeful organizations as Swedish International Development Cooperation Agency, Open Society – Georgia Foundation... USAID (and nobody knows to how many more such dark agencies he is also tied), is trying to invent a problem by talking about the rights of minorities"...
The newsletter was made possible by generous support of the American people rendered through the USA Agency for International Development (USAID).

The contents of the newsletter are responsibility of the Media Development Foundation (MDF) and do not necessarily reflect the views of the USAID and USA.