Media Development Foundation welcomes decision of the Palitratv.ge editorial board to remove homophobic content, entitled "Homosexuality is a crime, and illness of soul and flesh " from its web-site.
This was response to the complaint initiated by MDF, TDI and 17 May magazine to the self-regulation body.
Homophobic comment on Maestro TV
6 April news program of Maestro TV makes unfounded claim about a person's sexual identity, based on a homophobic comment by the Asaval-Dasavali newspaper journalist. The sexual identity of the person in question had no direct or indirect connection with the story itself, which concerns the issues of crime and the search for the suspect for the murder of police officers Shalva Abuladze.
Maestro, 9-o'clock news, 6 April
Dito Chubinidze, journalist: "Mamuka Khazaradze and the former head of Borjomi police Mamuka Khvedeliani, who is accused for sodomy and raping a young man, they sent some criminals against him."
The following violations have been noted in the period of 30 March-6 April: hate speech towards the National Movement -1; incitement of individual hatred towards members of the National Movement, judges, journalists and a businessman - 4; expressions of support for violence - 5; xenophobia -3; superstition -1; Turkophobia - 4; homophobia -11; sexism -1; gender stereotypes -1; anti-Western sentiments -36.
Separate examples are provided below:
Asaval-Dasavali, 30 March - 5 April
Giorgi Gigauri, journalist: "These servants of Satan [the National Movement members] and devils are really good at murder!"
Incitement of individual hatred
Asaval-Dasavali, 6-12 April
Kakha Kukava, Free Georgia: "If we don't bind judge Chemia to a pole of shame, don't put him on a donkey with his face back, and the whole society does not spit on him, the present judges will do the same."
Dito Chubinidze, Asaval-Dasavalijournalist: "You [Nanuka Zhorzholiani] have the smell of that dead bodies which Vano Merabishvili together with your damned husband ordered the Special Forces to get, telling them he needed two dead bodies; and Mamuka Khazaradze smells of the "toilet poets" and "toilet scribblers"!"
Expressions of support for violence
Imedi, Reaktsia, 3 April
Khatuna Bokuchava, actor: "He probably deserved to be killed [about a police officer]!"
Prime Time, 6 April
Tamaz Elizbarashvili, businessman: "... I will observe for a little longer, and then I will go out and call all the victims – let's take up arms and ourselves kill this gang, why should we let them kill us while we can to get them first ".
Prime Time, 30 March
Antimoz Bichinashvili: "I promised the Azeris if I saw them on our border again I would beat them with stick. I saw them and I fulfilled the promise, I beat them with a stick, twince."
Asaval-Dasavali, 30 March - 5 April
Giorgi Gigauri, journalist: "In Zviadi's [Gamsakurdia, former President] Georgia they wouldn't sell Georgian land to various foreigners!"
Kviris Chronika, 30 March - 5 April
Giorgi Jikiashvili, journalist: "Society does not know that these days he treacherous Parliament of the Georgian Dreamistswill adopt the super-treacherous draft law written by the same Dreamists' treacherous Government. Society will realize this when Georgia gets filled with the Arabs, Turks, Iranians and various foreigner, whom our politicians will call investors"...
Asaval-Dasavali, 6-12 April
Irina Gogosashvili, Chronika newspaper correspondent: "During Aslan Abashidze's time the house of a well-known Georgian poet Zurab Gorgiladze would not be sold to Iranians… While a Geogian businessman soon bought the house back, what had happened was Georgia's shame!"
Prime Time, 30 March
Nino Mchedlishvili, journalist: "You have named Eto Gavashelishvili among the ideologues of the Antichrist, do you have the proofs of this?"
Archil Chkoidze, Eurasian Choice: "More than 50 thousand Turks live in Adjara and they get subsidies from Turkey to bankrupt the Georgian companies and firms".
Asaval-Dasavali, 30 March - 5 April
Giorgi Gigauri, journalist: "In Zviadi's Georgia TV channels would not show the Turkish series and popularize pederasts and lesbians, instead they would share the ancient Georgian spirituality and culture!"
Headline: "The Turkish serials disrupted my family"
Asaval-Dasavali, 30 March - 5 April
Jondi Baghaturia, Burdjanadze- United opposition [Georgian Troupe]: "...While Europe obviously rejects conflict with Russia and immoral way of life [homosexuality], why do we slavishly obey to tall this and why do we do everything to create the situation of war with Russia?"
Asaval-Dasavali, 6-12 April, Reportiori, 6April
Giorgi Gigauri, journalist: " The grant-having prick Identoba, which already issues its own LGBT magazine (with a fine name "17 May"!), is jumping out of its underwearin in order to establish the lesbian-gay-bisexual-transgender filth in Georgia!.. Georgia has as the President the creature which, unlike the absolute majority of his compatriots, believes that sodomy is a normal thing and that sodomites and lesbians have the freedom of gatherings and rallies!"
Kviris Chronika, 6-12 April
Giorgi Jikiashvili, journalist: "Unfortunately, not a single minister, among those who had been asked, gave an adequate answer to this provocative question [whether homosexuality is an illness]and openly told them ["17 May" magazine] the truth: yes, the sin of Sodom-Gomorra is an illness, filth and immorality..."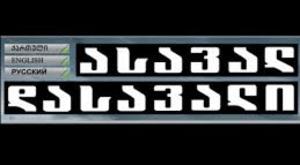 Asaval-Dasavali, 30 March - 5 April
Dito Chubinidze, journalist: "Remember the story of a wretched American Fletcher that happened in Samegrelo, in one of Zugdidi schools. The immoral and dirty person teacher the children, and for the fear of Saakashvili and his murderers neither children nor their parents could say anything against this wretched person, nor the family in which Fletcher lived."
Asaval-Dasavali, 30 March - 5 April
Ketevan Khamitsashvili, journalist: "Who is Marita?"
Soso Jachvliani, Georgian Dream: "Marita is Georgia, whom the whole world wants to screw (forgive my language). Yes, everyone wants to take something from her, hey play with her, everyone is around her...."
Tornike Kajrishvili, journalist: "Later two continuers of the family name[boys] were born in the family, but the happiness continued for several years only."
Asaval-Dasavali, 30 March - 5 April
Soso Jachvliani, Georgian Dream: "About 40 years ago, in my childhood, there was one bus for the black people and another one for the whites in United States. In France, until 1970s they were executing people – cutting their heads off – I will remind you the film "Two in the City". And know they come and lecture us about gender equality and anti-discrimination and they are telling this to us here in the country of Tamar [King]. This is like a whore (and write it down this way) talking about chastity."
Obiektivi, Night Studio, 1 April
Nino Burjanadze, United Democratic Movement: "We are not a country anymore, we are not respected by aither our strategic partner America, or by our strategic partner Europe..."
Bondo Mdzinarashvili, anchor: "They are no partners, they are masters. If we lie to ourselves and see America as our strategic partner, then ok…"
Nino Burjanadze: "... There was a time when these countries were Georgia's strategic partners, but know they truly want to be Georgia's masters."
Asaval-Dasavali, 30 March - 5 April
Jondi Baghaturia, Georgian Group: "Ukrainian crisis, thanks to Europe's great efforts, has been realitively settled. So, know America needs other hot spots to cause conflict between Europe and Russia. For this, Georgia is an ideal place."
Obiektivi, Night Studio, 31 March
David Tarkhan-Mouravi, Patriots Alliance: "Behind this ideology are the people who want the world to turn into robots. What is a person without homeland, faith, nation?"
Geworld.ge, 5April
Alexander Lukashenko, President of Belarus: "Why do we need an [American] Ambassador who is organizing the 5th column's rallies?"
Obiektivi, Night Studio, 5 April
Zviad Gamsakhurdia, the former President's interview to Radio Liberty: "The West's hostile policy… is global and aims for the victory of evil in the world. They are outright enemies of the, they aim at the genocide of other peoples except a certain group of the planet's population. This group is closely connected to the USA and seeks global domination… The war in Yugoslavia is their deed, this is no accidental conflict, but a pre-planned and pre-organized war in which peoples are to burn"...
Elizbar Javelidze, People's Assembly: "America's servants publish that false ratings which helps their country's leaders… I think people should go to the American organizations' offices and chase them from Georgia… The polls' results are alarming, it seems Americans are preparing the Georgian society for something terrible."
Headline: ""IRI serves the favored political groups"
Incognito respondent: "According to my information, the final approval regarding the numbers and ratings is given by the leadership of the Eurasian department in Washington. It is real that they are using the ratings for influencing political processes."
Vazha Abakelia, lawyer: "When there is this conversation that in the European and EU countries… you must be oriented towards them but you cannot go there at any cost... Now we cannot reject our religion, because the Orthodox religion is the most democratic and balanced religion... Our Church never had the inquisition. They did not burn people at stake. The Spanish king Philip II alone burned 30 000 people during one year. At that time and epoch, when the population of Earth was not even billion-and-a-half, burning 30 000 people, I don't know..."
Saqinform, 3 April
Gulbaat Rtskhiladze, head of the Eurasia Institute: "The West discredited itself in the rest of the World – by the constant wars, bombardments, organizing coups, financially and economically enslaving whole nations. The Georgians remember well the cruel regime of Saakashvili supported by the West, the remnants of which are still protected by the West today, and that is why our country cannot leave the dead end."
Saqinform, 1 April
"You can bargain with anyone except Washington! We shall not change our decision and don't even think about bargaining with us !"– scolded the US Ambassador Richard Norland the President of Georgia Giorgi Margvelashvili ."
Stephen Ledman, journalist: "America causes numerous conflicts, by which it is trying to achieve the global dominance and leads the humanity towards nuclear war. NATO, led by the US, represents huge threat for the humanity!.."That is why Putin's support of the peace in the whole world is the best defense for the humanity against the crazed neo-conservatives which have made Washington full of themselves."
Geworld.ge, 2 April
Mamanti Jolia, the honorary chekist of the Soviet Union: "... I want Georgia to belong to Georgians, not foreign Americans who murdered millions of American Indians and now claim America as their homeland. By such lies they want to become the rulers of the world."
Geworld.ge, 5 April
"Anti-Christian Projects of the World bank" – Galina Tsariova's documentary about creation of the personal number record in passports..."
Geworld.ge, 1 April
Jaba Zhvania, journalist: "Is it to be expected that after Ukraine, Washington will try to provoke Euromaidan in Georgia as well and by this create problems for Moscow in the south?"
Geworld.ge, 1 April
Giorgi Kordzadze, author: "... and the main thing: McDonalds isAmerican company which is oriented on maximizing profit by any means. Moral categories are uselessfor them.
...As you can see, Mc Donalds began working in Georgia with a lie and it is a matter of honor for the Georgian society to end the rampage of this "American"!"
Geworld.ge, 1 April
Giorgi Gachechiladze, author: "Generally, USA has committed many crimes against humanity: from murdering millions of American Indians (1622-1990) to the coup d'état in Ukraine"...
Kviris Chronika, 6-12 April
Giorgi Jikiashvili, journalist: "We are talking about a new breed of Georgians who will blindly and without resistance accept all abnormalities of the Western pseudo-liberalism[homosexuality]..."
Kviris Chronika, 6-12 April
Giorgi Jikiashvili, journalist: "America, through its 5th column, or the so called NGOs, is covertly listening to the government, but if any member of Parliament mentions this, Norland will hang him by his private parts in the Parliament building itself...
Parliament building itself...
As to the Prosecutors Office, if we were a normal, really sovereign state, and weren't actually led by Norland's private parts' kneaders, investigation would be launched regarding this statement and they would at least call Dzidziguri for questioning."
Alia, 3-6 April
Reportiori: "I will just remind you how America helped us during the August War of 2008: they sent us water, a lot of water."

The newsletter was made possible by generous support of the American people rendered through the USA Agency for International Development (USAID).
The contents of the newsletter are responsibility of the Media Development Foundation (MDF) and do not necessarily reflect the views of the USAID and USA.