The following facts have been identified during the week of March 16-22: hate speech-2; incitement to individual hatred – 3; incitement to violence – 3; Xenophobia – 4; Turkophobia – 1; unfounded reference to ethnic identity -1; Religious discrimination-1; Homophobia-5; Sexism, gender discrimination-3; Anti-Western sentiments-27.
Asaval-Dasavali, 16-22 March
Nikoloz Mjavanadze, The Rights Defenders' Union: "It is a shame that our judicial system has mentally retarded and enslaved judge like Urtmelidze."
Asaval-Dasavali, 16-22 March
Lia Krialashvili, Gia Krialashvilis sister: "This darn cohabitation has led them to the point that those sick Nationals are already promoting the street actions…"

Incitement to Individual Hatred
Levan Lortkipanidze, political scientist: "Times when hatred was expressed so publicly are gone. This is what happed in Batumi, this man, leader of National Movement in Supreme Council [Petre Zambakhidze] is so unpleasant with his manner of speech, his behavior, is horrible, somehow… But no matter how horrible he can be, nothing will change if you go and slam a packet of eggs over his head in front of 22 cameras , with this action you will only underline his strength."
Roman Fin, dissident: "Today we see a collective hatred and repulsion towards him [Mikheil Saakashvili] and his followers. "
Kviris Qronika, 16-22 March
Giorgi Jiqiashvili, journalist: "How can Ugulava write blogs? He should have a broom of one meter and a half stuck in this anus, but he is free now!"
Imedi, Qronika, Imedis Kvira, 16 and 22 March
Murman Dumbadze, MP: "If someone dares to enter my property and insults my property I will bury him right there."
Alia, 17 March
Nino Samkharadze, journalist: "Be aware of the brooms bending over in your anus!"
Asaval-Dasavali, 16-22 March
Elizbar Javelidze, People's Assembly: "I will not mercy if on March 21, any Nats will be shot down by Nats's themselves...
When Georgia was in trouble, Georgian men would put down their spades and sickle and they would pick up a gun! If the government does no judge the Nats, the people's court will judge them!"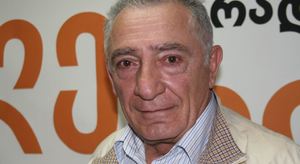 Kviris Palitra, 19 March
Gogi Topadze, Georgian Dream: "Russians are sick, but what will Russophobia bring us?!"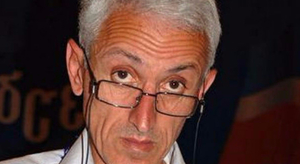 [From the archive]
Murman Dumbadze, MP: "He is not genetically Georgian [Giorgi Masalkin] he cannot understand what Georgia is…he has not heard about Oshki, he has never light a candle."
Kviris Qronika, 16-22 March
Giorgi Jiqiashvili, journalist: "Speaking about the fact with Arabs, Arabs have always been anxious for Georgian lands, today they are ready to give much more money to the government in order to rule over that land and become dominant over it. This has been their dream historically... What is most unfortunate is, that our government is a typical fifth column…this is the country that could not be defeated by Murvan the Deaf and Bugha Turk, what harm can those filthy "Investors" can do."
Gogi Otkhmezuri, historian: "I have always wanted to ask you, Mrs. Eka [Gigauri] how could your hands write that claim [to admit ban on the sale of land to foreigners unconstitutional]? We will be left without our land soon."
Tamar Davituliani, author: "You can find people of every kind in every corner of Georgia, and Georgians have to flee abroad to earn for living. The lands are handed to foreigners; the farmers who have become lazy are bound to become their servants. "
Asaval-Dasavali, 16-22 March
Ioseb Archvadze, economist: "One day a Georgian may call home from abroad and he/she will not get an answer on Georgian language! It is already alarming."
Kviris Qronika, 16-22 March, Geoworld.ge, 16 March
Rezo Amashukeli, poet: "…Today, when a hungry Turkey is right next to us, they have swallowed half of Georgia once and they are still gaping at us, it is critical to associate with Russia, the war is inevitable, it is inevitable!"
Unfounded Reference to Ethnic Identity
Arno Khidirbegishvili, chief editor or Sakinformi: "Once those offspring's of Armenians from Baku - Saakov and Kasparov, failed to extort guns from U.S. for Ukraine, their post on International Consultation Board of Ukrainian President, and does not make sense anymore."
[from Archives]
Murman Dumbadze, MP: "We are categorically against erecting the mosque in the name of Sultan Abdula Azizie - conqueror of Ottoman empery from 19th century "
Irma Inashvili, Patriots' Alliance: "Why should not they see those footages?! [footages of torture, that took place during the previous government] If we are supposed to explain them from childhood what is sexual intercourse…apparently we have to explain them that homosexuality is not an illness…and maybe we have to tell them that they should not call their parents mom or dad, instead parent #1 and parent #2 as it is in Sweden, why can't we teach them that it is unacceptable to torture people?.. it can never be forgiven, and it has no limitation period!"
Kviris Qronika, 16-22 March, Reportiori, 16 March
Giorgi Jiqiashvili, journalist: "…Clearly, it does not make any sense to remind him [Gigi Ugulava] that ass-giving is not just another sin, but it is a deadly sin, but the truth is that he is not resting in prison, he is depraving and rotting the consciousness of generations from there."
Tamar Davituliani, author: "We see more and more people of unidentified gender and transgender on the TV screen…It is paradoxical, but they are presented as the symbols of our future, while they have no future…
Vacharadze, who has disrupted his identity, is
naming the Patriarch as the enemy of Georgia…
How can one respect a woman who is fighting for her rights in line with Vacharadze?"
Shota Glurjidze, an architect and theatre artist: "Who knows when they [Nationals] will gather again, why don't they hold a gay parade in the meanwhile?"
Demur Giorkhelidze, expert: "You must be brainless to bring LGBT to Georgia…than go and see the those who have ordered it, make them even more crazy, they are in difficult situation without that, due to their specific state, I don't what to go into details."
Sexism, Gender Stereotypes
Alia, 17 March
Goga Tsulaia, Free Georgia: "It is not a shame any more to bring around secondhand women, but why it is so difficult to bring secondhand computers?."
[Shalva Ramishvili is quoting the sexist statement of Gogi Tsulaia]
Alia, 17 March
Lali Moroshkina, Founder of Women's Party: "If you as a woman, do not want to be subject of violence, nobody will be violent to you."
Maestro, Maestro at 9:00, 17 March
Gogi Topadze, Georgian Dream: "Our so called ally from across the ocean is the similar aggressor that has brought us lots of suffering as a Russia."
Gogi Topadze, Georgian Dream: "NATO is an aggressive bloc. I don't want my country to be in any political bloc, because the sings of third nuclear war is vivid…Eurasian Union is one of our possibilities to have a better life."
Gogi Topadze, Georgian Dream: "Was NATO there, when there was conflict in Abkhazia and Samachablo?, why is he involved in Ukrainian conflict?"
Alia, 19 March
Gogi Topadze, Georgian Dream: "There have been so many disorders in the country due to the interests of another country; we have so many examples of it."
Gogi Topadze, Georgian Dream: "It has to be banned [Receiving grants from foreign countries] this is how Americans have caused a coup in many countries. This is how those tragedies started in Arabia, Iraq, Yugoslavia, Libya and Egypt and unrest still continues there. The same is happening in Syria now."
Asaval-Dasavali, 16-22 March
Gogi Topadze, Georgian Dream: "Considering everything that NATO has done during the last 20 years, I doubt that any country intends to support it."
Alia, 18 March
Nino Burjanadze, United Opposition:..."If the West continues to exercise its dual policy, they will only encourage pro-Russian sentiments."
Nino Burjanadze, United Opposition: "NATO infrastructure [training center] can bring serious problems to Georgia."
Valeri Khaburdzania, former minister of security: "The doors of NATO is closed for us, they are just lying."
Asaval-Dasavali, 16-22 March
Nana Devdariani, former public defender: "America organized the war in Ukraine; they have involved this puppet government in it and have halved this country!"
Asaval-Dasavali, 16-22 March
Elizbar Javelidze, Council of People: "Why Europe was not concerned when Saakashvili involved us in 2008 August war?!"
involved us in 2008 August war?!"
Maestro, Maestro at 9:00, 19 March
Archil Chkoidze, Erekle II Society: "We can all see that we have no other benefit from Europe, than just their concerns diapers and water."
Kirnati resident:"I prefer an aggressive neighbor besides me than a distant relative." (Archived material)
Khetubani resident: "Wherever our farmers feel better and have fewer burdens to carry that's where we want to be. Why do I need America for" (from archive).
Alia, Reportiori, 17 March
Nikoloz Mjavanadze,The Rights Defenders' Union: "It is none of the business of America Embassy what kind of sentence Georgians impose to someone, whose business, is that? If it is really happening the way they think, why do we ever hold elections then?.. let them appoint their candidates straight way."
Asaval-Dasavali, 16-22 March
Lia Krialashvili, Gia Krialashvilis sister: " I want neither Europe, nor America or evil souls like MacKaine. Bring back my country please!"
Bryan Fisher, American Conservative: "We see that several Euro-Atlantic countries have started to disregard their roots, Christian values among them ... current policy puts on the same position families with many kids and same sex partners, also belief in god and in evil...pedophilia is being promoted…this is the direct way towards degradation and primitivism, towards deep demographic and moral crisis"
Kheltubani resident: "We don't need America, they are not our friends. Our friend is Russia!"
"In United States of America ten times more peaceful population is killed by the police officers per year, then by terrorists around the world. Police officers in America kill without any grounds, they kill young people, children, those are not just words…It is officially allowed by executive order to torture in American prisons!"
Levan Zangurashvili, authors: "Exactly this police [that was created by participation of American experts] have created masked and armed " group of animals" who uses power over their people."
Jaba Jvania, author: "Something horrible is going to happen, if "Kots [Georgian Dream]– government" does not dance on the tunes plaid by America, affairs in Ukraine will seem as piece of cake compared to that."
Gia Korkotashvili, Georgian Mission: "Let's hold referendum… is it sensible to enter NATO at this moment, when one step to NATO means Russian tanks marching in here. Moreover NATO is not welcoming us, why are we pushing?!...
"Saakashvili is like an landing force, located here [by West], they made him damage things here and there, but before they were done here he was transferred to Ukraine. Now he will damage some things in Ukraine too. Then he will be moved to Bangladesh if required, and so on."
Akaki Asatiani, Union of Traditionalists: " …NATO has generally become like a religion here lately. It is O.K. to criticize church and Patriarch, but saying anything wrong about NATO means heresy. Apologists of this ideology can probably introduce inquisition, they would burn those people who have something critical to say about the alliance."
Hamlet Chipahsvili, political scientist: "America will inevitably interfere in activating the railway rout (Moscow-Sokhumi-Tbilisi), it is not beneficial for us look up to America…"
Giorgi Kordzadze, author: "Large-scale
demonstrations in 2009 against Saakashvili were not financed by America, otherwise it would have been "decorated" by "casualty."
"Americans and their allies have committed several crimes in the name of "avoiding humanitarian catastrophe" and democracy."
Gulbaat Rtskhiladze, Eurazian Institute: "There is an aggressive minority in Georgia that is very active and is financed by Western organizations."

The newsletter was made possible by generous support of the American people rendered through the USA Agency for International Development (USAID).
The contents of the newsletter are responsibility of the Media Development Foundation (MDF) and do not necessarily reflect the views of the USAID and USA.