Some examples from the media monitoring conducted during the period of 1 June to 31 June:
Anti-Western/ Politicians
Obiektivi, Night Studio, 27 June
Gubaz Sanikidze, National Forum: "Georgian state should become national state, these experiments on your own mother are wrong. This liberalism and stuff – this is foolishness, it cannot be introduced like this. Other countries, conquerors, had much more severe attempts in our history. They could not make us like them, this is not going to work." 
Marshallpress, 25 June
Valeri Kvaratskhelia, Socialist Georgia: "I think that you are artificial rats spawn in American laboratories, rather than humans born from and raised by mothers.. You can only reek, because you don't consist of flesh, soul and blood, you are just a pile of pus – an exploded furuncle!.. But that's all right, we shall bring good disinfection material from Russia and cleanse you." 
Asaval-Dasavali, 6-12 June
Elizbar Javelidze, People's Assembly: Who has established this European course?! About 80% of Georgian citizens do not even want to look towards Europe, because from there Conchita stares at us with strange passion!
Anti-Western / Clerics
Geworld.ge, 8 June
David Lasurashvili, cleric
"We do not need partnership with and being on the political orbit of a nation whose purpose is to propagate homosexuality in the world."
Anti-Western /Media
Asaval-Dasavali, 20-26 June
Giorgi Gigauri, journalist: How dares America lecture us, while it cannot look after its own gays, as sodomites kill 50 gays there?!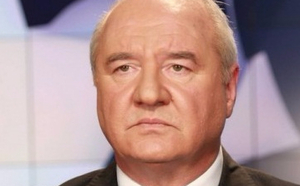 Asaval-Dasavali, 20-26 June
Soso Shatberashvili, The Left Alliance: Adjara, sold by Saakashvili to the Turks, is a very good example of why selling land to foreigners should be prohibited in Georgia!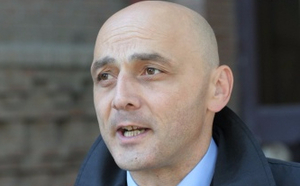 Asaval-Dasavali, 13-19 June
Jondi Baghaturia, United Democratic Movement: I'll put it simply: if not for the fear of Russia, Turkish army would already be in Adjara! It does not matter whether that would happen under the NATO authority or otherwise!
Asaval-Dasavali, 13-19 June
Dito Chubinidze, journalist: In 1918 Noe Jordania wrote that we are between two violent rivers and one of them will take us away… one is Russia, another - Turkey! Turkey has not forgotten its imperial and predatory ambitions in the Caucasus, but in truth Turkey of Jordania's times has been now replaced America.
Obiektivi, Batumi Studio, 16 June  
Merab Bladadze, anchor: "Why don't they write about those Turks who keep coming over, and have plowed the bottom of the sea and destroyed everything here?"


Misha Gomiashvili, actor: Is it only me who sees what is happening in our city? Georgian girls, 15-16-17 years old, Georgian gene fund who should become mothers and give children to Georgia, become lovers of Turks, Iranians and others. 
Religious discrimination/clerics
Asaval-Dasavali, 6-12 June
Nikoloz Chkhikvadze, priest: "…When a soldier goes to war he is blessed by a priest, so what do we do now, should we let a mullah bless our army? They call others someone's agents while in truth they are agents themselves, Tina Khidasheli is an agent of Islam".
Asaval-Dasavali, 27 June -3 July
Sandro Bregadze, Mechiauri – For United Georgia: Ten days ago one separatist spoke on Abkhazian TV and said that in Georgia they impose homosexuality on the youth, that soon they will legalize same-sex marriage and so it is very good that we – Abkhazs – are not a part of Georgia!
Do you understand what this means? Until liberast forces that support immorality dominate in Georgia, Abkhazs and Ossetians will never wish to live with us because they are loyal to the Caucasian traditions.
Zaza Papuashvili, Georgian Dream: "I agree with a lot of what you say, I am for resisting same-sex marriage, resisting the violence of minority over majority, but I don't care who lives how. Nothing should threaten our statehood and my religion".


Obiektivi, Batumi Studio, 30 June
Elguja Paichadze, Patriots Alliance: " ... So they introduced the sin of Sodom and Gomorra to our Constitution. This is only the first stage and preparation for them, they probably will offer us same-sex marriage as well."
Asaval-Dasavali, 13-19 June
Levan Vasadze, businessman: "The funniest part is that Levan Berdzenishvili speaks in the name of the Georgian people. This is like if I were to speak in the name of those Sodomites whose flag this MP who "expresses the will of the Georgian people" recently defended in the Parliament".
Asaval-Dasavali, 6-12 June
Zurab Kumsishvili, doctor: In the 1970s no one could imagine acceptance of sodomy as a norm, but today the law protects sodomy instead of punishing it! If humanity goes further with this tempo, perhaps it will also find arguments for acceptance of zoophilia and necrophilia.
Saqinform, 21 June
Alexander Chachia, political observer: "When they legalize same-sex marriage… Last year an Abkhaz deputy said: "Thank God that we have timely freed ourselves from the Georgian influence, if we were in Georgia now, they wpuld impose homosexuality on our youth. Who needs pederasts in Abkhazia?!"
Sexism/Gender stereotypes/ Media
Asaval-Dasavali, 20-26 June
Giorgi Gigauri, journalist: We hear that in Georgia a woman has a right "to have sex when she wants and with whom she wants"!
Excuse me, but this looks like a propaganda not by the human rights defenders, but from a last whore in a brothel!
This is beyond all limits, since this is a call for total promiscuity from the leader of Sapari under the guise of "women equality"!
Rustavi 2, Kurieri at 21:00, 11 June
Giorgi Gabunia, anchor: "It's too bad that Nika Gvaramia did not follow justice Natia Gujabidze's game, otherwise Ms Natia would now have to take off her mantle. I don't suppose we would discover anything exceedingly interesting under the mantle, but still."
MDF against Palitra News
On 22 June MDF filed a complaint to the Communications Commission, asking it to study the violation of procedures by the self-regulation division of Palitra News regarding programs with homophobic content.
See full collection of examples of discriminatory statements at the website: www.notophobia.ge
Newsletter was developed by Media Development Foundation (MDF) within the frameworks of the Promoting Integration, Tolerance and Awareness Program in Georgia, supported by USAID and implemented by UNAG.

Opinions and ideas provided in this newsletter are those of the Media Development Foundation (MDF) and do not represent the official position of the U.S. Agency for International Development and the UN Association of Georgia.