The following facts have been observed during the period of March 9-10: Hate speech -4; Incitement to violence – 2; Xenophobia -9; Turkophobia -1; Armenophobia-1; unfounded assertion regarding ethnic identity-2; religious discrimination-3; homophobia-9; gender stereotypes-4; anti-Western sentiments-21.
Asaval-Dasavali, 9-15 March
Soso Jachvliani, Georgian Dream: "…As the saying goes, sick person [Nationals] should be diddled in their bed!"
Asaval-Dasavali, 9-15 March
Guram Sagharadze:wrestler:"National Movement is a sect; no soul of Natsits should be alive in Georgia! Georgia has never experienced such terrible Black Death before!"
Robert Sturua, play director: "On March 21, rotten evil in Georgia [National Movement] will soak us and will spread a stench over us for the last time. Since we were unable to take care and clean our blessed motherland, (Alien evil did not allow us to)"…
Asaval-Dasavali, 9-15 March
Anthimoz Bichinashvili, archimandrite: "They have been requesting my punishment since May 17… I think, those people are the enemies of the church. Attack on the church and the Patriarch is the same as attack over the Jesus Christ, they are the enemies of Georgia, who were bribed by money, to commit it. To be direct, this is the ideology of antichrist."
Kviris Qronika, 9-15 March
Elizbar Javelidze, Pupblic Assembly: ..."When Georgian man was in trouble he used to put the hoe down and pick up the gun! Just like them, we are picking up our guns, swords and pens and we will take care of those bloodthirsty "Nationals"! "
Geworld.ge, 11 March
Giorgi Kordzadze, Author: "Will Saakashvili share the destiny of Boris Nemtsov? the answer is as follows: by all means! Because it is the logical end of a betrayer, no matter what rank he has got!"
Caucasia, Barrier, 10 March
Zviad Dzidziguri, Georgian Dream: "I believe that Georgia should not be, so to say "free passage". What happened is that a little girl, Mariam…I do not remember her surname, the girl was murdered in Adjara by the tourist [The accused is the citizen of Iran], he did not even have three dollars in his pocket…to open doors for everyone…whoever wishes to enter and go, it is not right…
I do not think that it was a right decision, when Saakashvili granted Georgian citizenship to more than three thousand people during the last months, what type of people were they?; where from?; what language did they speak?; did they know what was the country that they became citizens of?"
Caucasia, Barrier, 10 March
Soso Zaalishvili, expert on Islamic affairs: "I understand that the Ambassador of Iran was heart by this statement [statement of Thea Tsulukiani about Iran], but if we really want the tourists to enter our country from the state like Iran, where spiritual leader and the leaders of the country are threatening other states with physical destruction, sure, let them come in..."
"In order to let the currency enter the country, we are letting the terrorists enter the country, which may result into threat to our state."
Asaval-Dasavali, 9-15 March
Merab Berdzenishvili, sculptor: "Previous government has opened the boarders that have put Georgia against serious threat, suddenly on Davit Agmashenebeli Avenue everything turned Turkish. Batumi appeared to be in most difficult situation; in Kakheti Indians have appeared, in Tbilisi one whole district is occupied by Chinese, the lands are sold…I assume that was the most harmful thing to do… maybe we should be thinking about returning the occupied lands, half of Georgia is already gone!"
Obiektivi, Nights Studio, 15 March
Levan Chachua, Georgian Idea: "Such an awful draft-law is submitted to the parliament lately, about selling the agricultural lands to the foreigners, those lands that are cultivated and were the tractors are working may end up in the hands of foreigners."
Davit Mkheidze, publicist: "What is happening today is worse that Fascism for me. If it continues like this…those cultivated lands will be left there…left behind, there are some things that Georgian men will never give up."
TV viewer: "There are four powers fighting for Kvemo Kartli, Arabs, Azeris, Iranians and Turks. In this case we require not only physical survival, but also mental survival."
Geworld.ge, 11 March
Jaba Jvania, Author: "... The capital (and not only the capital) is filled with foreigners who have arrived for unknown reasons; they were named as investors by the propaganda of "Natsists" the majority of them are Arabs, Iraqis, Egyptians, Iranians and Syrians. The only benefit of them is increased number of Chilim bars and nightclubs for themselves to have fun. Tbilisi has turned into city of harems. Foreigners, like ants have invaded the Georgian land…"
Zviad Tomaradze, Demographic Development Foundation: "There is a danger
of establishing five Arabian villages in Mtskheta region…Those lands are obviously sold and houses will be constructed there, soon we may have Arabian settlement in Georgia."
Announcement of guardian of Georgian land: "Joint opinion of Georgian people should be announced publicly, that government has intended to sell foreigners those lands that were bought from peasants who had been impoverished deliberately. Those lands are sold illegally and all the deeds of purchases will be canceled."
Obiektivi, Night Studio, 15 March
Merab Shatirishvili, Georgian reality – Assembly of Patriots: "Look what is happening in Adjara, you can hardly hear Georgian language on the first floors of the houses. You will see construction materials there, they are building yards and houses… in old Tbilisi, and the Turk bought the house in the yard of my friend"…
Giorgi Gachechiladze, author: "Relevant response should be given to our neighbor Armenians, who have been trying with organized actions to misappropriate Georgian national and cultural heritage... they are claiming Georgian churches and cultural monuments, it is not a surprise that they are claiming our wine and cuisine!"
Unfounded Assertion Regarding Ethnic Identity
Asaval-Dasavali, 9-15 March, Sakinformi, 10 March
Arno Khidirbegishvili, Chief Editor of Sakinformi: "We can somehow survive without Saakov!"
Asaval-Dasavali, 9-15 March
Dito Chubinidze, Journalist: "Apparently zombie and a little cuckoo Ninia Kakabadze has radiated and foolish husband. Few days ago, he [Zaza Bibilashvili, member of UNM] had a diarrhea of the mouth and placed a statement on the pages of Tabula magazine, it was more like a statement that agents of Jehovah used to create in 90-ies, in order to please their, watchtower with their evil deeds in Georgia."
Basil Mkalavishvili, priest: ..."One of the
ministers that you named, were supporting the Jehovah followers, while we were fighting against their proselytism and debauchery of their sect."
Obiektivi, Night Studio, 14 March
TV Viewer: "Off course it was orthodoxy and people like you who brought Georgia till today… and you know what, those Jehovah witnesses are… we are patient of the Muslims here, it is an ancient religion and they do not believe in Christ, but why are they trying to propagate this Jehovah something's to us?
Kviris Palitra and Geoworld.ge, 12 March,
Reportiori, 13 March
Levan Vasadze, Businessman: "Fascism and gay life was recently separated from each other in the media, after your [Gigi Ugulava] patrons decided to propagate gay life, they wanted to enslave single men to the consumer loans and physical pleasures under the flag of freedom. In this case it was not suitable for them to equal Fascism to Gay life, earlier these two perfectly cohabitated in Western clichés.

Basil Mkalavishvili, priest: "Homosexuality, lesbians, gay life and other disorders are great sins, illness and crime, even a child can tell that."
Vaja Abakelia, lawyer: "Why are you copying only same sex marriage, can't you follow to anything else that is beneficial for the city?"
Tsitsi Omanadze, journalist: "What is your attitude towards the non-traditional people…?

Zurab Manjavidze, singer: "...I am trying to distance myself from them, and not establish close relationships or friendship. I am against gay pride, they can be for themselves, it is not necessary to publicize everything and do this for receiving grants."
Kviris Qronika, 9-15 March
Giorgi Jiqiashvili, journalist: "The state is turning into one big hen house, political agenda is established by providers of certain things, "those who cannot figure out the idea of human rights" – so to say official pederasts. Generally it is not surprising to have large number of pederast propagators, given the fact that Republicans are heading the government and their oppositional power are represented by Nats-criminals".
Beqa Tskhadadze, Member of initiative group: "We are not fighting against gays, but it is unacceptable to hold propaganda and students conference over this topic."
Obiektivi, Night Studio, 14 March
Misha Gomiashvili, artist: "They are beating me only because they are pedуrasts, just because their penis was cut off…"
Maka Razmadze, anchor: "We are discussing propaganda and you were objecting the imposed propaganda"…
Misha Gomiashvili, Artist: "Yes, I am a homophobe, but I am not coming with a stool, I can never accept a family of two men in Georgia. What if they adopt a child, is will he/she refer to them, mother or father?
Zurab Manjavidze, singer: "A man should be the main income provider; hence it does not mean that women should not work. Man should make final decision, but not personal decision. I support patriarchal family. When this fundament is distorted in the family, everything starts to go wrong. Men should provide income and lead the family, but women's rights should not be violated."
Gogi Topadze, Georgian Dream: "Our politicians know that this will destroy our county, don't they? Imagine NATO has entered Georgia; they have stationed ballistic rockets on the Caucasus range pointing directly on Kremlin and Putin's office. Would Russia allow that to happen? Ukrain will seem like piece of cake. Russia is telling you not to go to NATO and start discussion, but you are still heading to NATO. How can NATO help you?"
Maestro, Maestro at 9:00, 11 March
Gogi Topadze, Georgian Dream: "I will remind you how NATO made Yugoslavia to disintegrate, right in the heart of Europe. Serbs, Albanians and citizens of Kosovo are still hostile to NATO. Remember what they did in Iraq…"
Rezonansi, 12 March
Gogi Topadze, Georgian Dream: " Considering what NATO did during the last 20 years, I doubt any country will support it."
Interpresnews, 10 March
Gogi Topadze, MP: " It will cause lots of problems"…" I have not seen a country that has benefited from NATO."
Gogi Topadze, Georgian Dream: "Entering NATO will result in national tragic…we neither need NATO, nor EU."
Nino Burjanadze, United Democratic Movement: "This is an insult of our government [visit of ex-president Saakashvili in U.S. Senate]... what do those statements mean, do they mean that the West respects sovereignty of Georgia?
Levan Vasadze, Businessman: "...They have continued the genocide started by Glenn Bek, Bush and Chain in Near East, killing millions of Muslims, Arabs and Afghans. They armed colorful revolutions and created Islamic government against Bashar al-Assad, that now beheads and rapes Christians as well as Muslims...In general, the priority of American foreign policy is to change the order of planet and announce violent Sodomization. They have destroyed Ukraine by yet another unconstitutional coup…"
Kviris Qronika, 9-15 March, Reportiori, 13 March
Elizbar Javelidze, Council of People: "Why should Norland or some whore Victoria Nuland decide the destiny of Georgia?... Georgia will not exist anymore, this is what they are trying to achieve. Their goal is Georgian territory without Georgians in order to aim at Russian airspace from here…"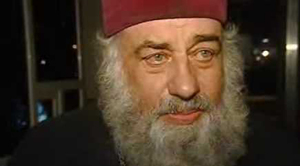 Basil Mkalavishvili, priest: "Those from overseas are warning us that if we do not protect gays' rights, we will never enter Europe or NATO. This immorality is prohibited in Russia, while Americans are imposing it on us."
Grisha Oniani, Stalin's Society: "American spirit has implanted a sperm in those men that are coming here; they will be expecting twin boys."
Elizbar Diakonidze, priest: "If we analyze it well, you will know that Georgia has never had worse enemy then America, this monster state is planning to swallow us...
Knocking on the door of NATO, reminds me of knocking on the door of Evil, rather than god."
Obiektivi, Night Studio, 15 March
Merab Shatirishvili, Georgian Reality – Assembly of Patriots: "How can they teach others what is Democracy [European Union]?; in the last century three thousand Egyptians were driven into the sea and executed by the French, during Napoleon's era. The coast was red with blood… Euro - Atlantic integration has become such an issue, the temperature has become so high that Georgia is shrinking like a pebble- leather"…
Levan Chachua, Georgian Idea: " We are the target of manipulation in the hands of the West, they don't care the blood was shed in Ukraine, nor in Georgia in 2008, or even if there will more destabilization and blood here."
Davit Mkheidze, Publicist: "This is an ideology, neoliberal ideology… what is most dangerous is that they are stating that same-sex marriage is normal…they are disturbing the family tradition… If a father pulls his child's ear, the child can sue him in court".
Netgazeti, 10 March, Tabula, Focus, Sakinformi 12 March
Spiridon Abuladze, bishop: "It is tragic that by encouragement from other powers, third power and by great deception of non- orthodox
powers, blood was shed among brothers [Russians and Ukrainians]."
Giorgi Gigauri, journalist of Asaval-Dasavali: "Americans have killed and crippled tens of thousands of children in Iraq, while supporting government turnover in Libya, Syria or Egypt. This is the "Fight for democracy." Apparently, it is non-democratic to punish the officials who are in blood up the ears! I can dear and say as the saying goes – let everybody take care of their American whore aunt!"
Tamar Davituliani, author: "It is widely known that Americans cannot kill peaceful population in Afganistan and Iraq, unless they have five varieties of ice cream (not to mention the pineapples)".
Giorgi Kordzadze, author: " It has been a long time since the only export product of America is destruction, termination and eradication."
Title: "Lightening of Hell, "intentions of the death sect" [referring to American policy]
Title: "United States of Genocide"
Alexandre Chachia, Moscow based political scientist: "Unfortunately, America is governed by bloodthirsty cannibal corporations"...
Obiektivi, Night Studio, 15 March
TV Viewer: " We are in need of mental survival, as well as physical survival, therefore we definitely have to enter Russia… and then fight for withdrawal of European Union from Georgian territory, as it happened in Greece "
The newsletter was made possible by generous support of the American people rendered through the USA Agency for International Development (USAID).

The contents of the newsletter are responsibility of the Media Development Foundation (MDF) and do not necessarily reflect the views of the USAID and USA.