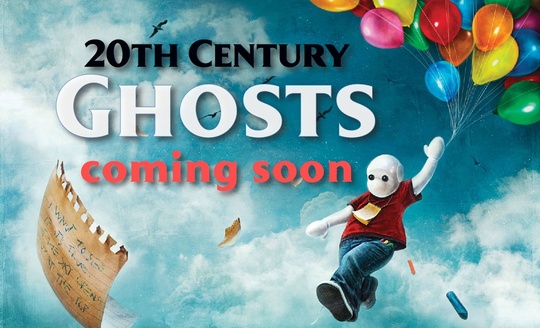 First up, anyone out there heard of this cat Joe Hill?
Yeah, of course you have. And I'll bet ya heard of Joe's Ray Bradbury's Fellowship award for the story '20th Century Ghost' and maybe you heard he also received the William L. Crawford award for best new fantasy writer in 2006, the A. E. Coppard Long Fiction Prize in 1999 for 'Better Than Home' and the 2006 World Fantasy Award for 'Voluntary Committal'. His stories have appeared in a variety of magazines, such as Postscripts, Subterranean Magazine and The High Plains Literary Review, and in many anthologies.

Well, it's 10 years since, overloaded to the back teeth with projects, CD Head Honcho Richard Chizmar sent Joe our way to ask if PS might be interested in publishing his collection of tales, wrapped around the title of that Bradbury Fellowship story. On the night Joe responded to my suggestion that he send me his three best yarns, I read 'Ghost', 'Pop Art' (sheer genius and containing a killer closing line) and, heck, you know, I don't recall the third one. I do recall dropping him a line first thing the next morning and asking for a phone number and I called and we spoke and we made a deal and, well, you know the rest—20TH CENTURY GHOSTS, GUNPOWDER, HORNS, plus a little something special just down the pike that we'll talk about a little later. But before that, just to re-whet your whistle, here's the 10th Anniversary edition of the book that started the ball rolling and which notched up in quick succession the World Fantasy Award, the British Fantasy Award, the International Horror Guild Award and the Bram Stoker Award.
We're doing three states:
a 26-copy lettered and traycased edition signed by Joe and artist Vinny Chong, plus the two directors of the short films ('Abraham's Boys' directed by Dorothy L. Street; and 'Pop Art' directed by Amanda Boyle) included on DVD, priced at £495;
a 200-copy edition signed by Joe and Vinny and housed in an illustrated slipcase priced at £125; and
a 774-copy unsigned trade edition priced at just £35 and housed in a plain material slipcase, split between alternative dustjacket, PPC and endpapers (thereby giving you all the artwork if you buy both).
On the regular unsigned edition, there will be four pieces of Vinny Chong's stunning artwork. On the deluxe slipcased and traycased editions, there will be five pieces plus a set of seven cards bearing all of the Vinny Chong artwork.
(while Mike was enjoying his last day in France) Liam Sharp's truly remarkable (Off the wall, anybody?) ANDREW WILMINGOT'S PARADISE REX PRESS INC. complete with Afterword-cum-essay on Beardism by China Mieville, landed at PS Towers and the book accompanied me to the seafront where, to the gentle sound of the waves lapping the sea walls, I reacquainted myself with the madcap Midlands world of Wilmington alter ego Parliament Jones. It's heady stuff and I have to say right here and now that it has not found unqualified favour with everyone scattered around PS Towers.
But, hey, that's what happened with Tracy Knight's brilliant THE ASTONISHED EYE which we published around 12 years ago or either of Sebastien Doubinsky's two PS novels, most notably the masterly THE BABYLONIAN TRILOGY which is considered in more enlightened areas as a classic in the field. Yeah, but what's the field, right? Ah, that would be telling. Try this definition, for instance:
Beardism, n. Pure pseudo-psychic automatism, by which one proposes to express, either verbally, in writing, or by any other manner, how history functions based on an (imagined) alternate past and the progression of industry. Dictation of thought in the absence of all control exercised by reason based on actuality (other than imagined actuality), outside of all aesthetic and moral preoccupation with the one proviso that the practitioner wear a beard.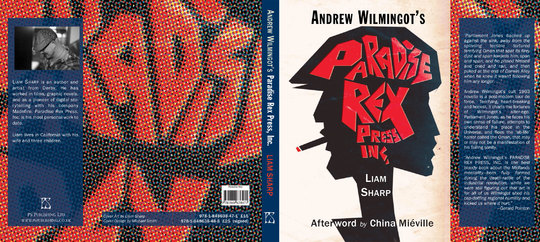 ANDREW WILMINGOT'S PARADISE REX PRESS INC. is all the glib phrases you hear and read from time to time, tour de force being just one of them. Or is that perhaps two . . .
As the jacket says, 'Liam Sharp is an author and artist from Derby. He has worked in films, graphic novels, and as a pioneer of digital storytelling with his company Madefire. ANDREW WILMINGOT'S PARADISE REX PRESS INC. is his most personal work to date. Liam —who also provided the cover and dust-jacket artwork—lives in California with his wife and three children.
(20th August, as any self-respecting far-out fan of weird wordplay will already know), I thought you might like an update on what's going to be available on the PS table, manfully manned and purposefully peddled by new conscripts Jason C. Eckhardt and Sam Gafford (about whom there'll be more—MUCH more—in the fullness of time, so be patient, you exciteable warriors: in the meantime I'll just say three words—Lovecraft. Graphic. Novel). But first here's the list:
Guests of Honour
And don't forget that Guests of Honor Ramsey Campbell and Stephen Jones will be on hand to scribble affectionately in any purchases considered appropriate. There's a lot of cool titles there so we expect everyone attending to purchase at least one which, on current reckoning, should mean there'll be upwards of a couple thou disappointed folks!
Hey, do the math. Whoo hoo!
Okay, that's it for this week.
Have a great time, look after each other . . . and happy reading.
Best
Pete