Four non-governmental organizations filed a complaint with the Kavkasia TV self-regulatory body on January 6. The complaint of the Сivil Integration Foundation (CIF), Media Development Foundation (MDF), Tolerance and Diversity Institute (TDI) and Human Rights Education and Monitoring Center (EMC) has been caused by the statements made by David Akubardia , anchor of the Spektri talk show on December 26. The organizations believe that the statements were discriminative inciting hatred against Muslim citizens of Georgia.
Observations of the Monitoring
Media Development Foundation continues its monitoring of the news programs of 5 TV Channels, TV talk shows of 7TV, 5 newspapers and 7 internet portals for the hate speech, various forms of discrimination and incitement of anti-Western sentiments, which often has discriminatory context.
The first issue of 2015 includes the following facts noted during the period from 29 December 2014 to 11 January 2015: incitement of individual hatred -1; support for violence based on the claims of insult to religious feelings - 1; extremist statements because of religious critique - 4; Turkophobia -1; xenophobia -3; homophobia - 7 (5 out of these by the media); stereotypes regarding the roles of men and women -3; anti-Western sentiments -9.
Incitement of individual hatred
Asaval-Dasavali, 29 December -11 January
Elizbar Javelidze, People's Council:"Levan Berdzenishvili should be hanged on the Jehovah Witnesses' Christmas tree for such anti-Georgian statements!"
Geworld.ge, 9 January
Zaza Gabechava [Facebook status about Charlie Hebdo cartoons]: "When with your sick "freedom of expression" you insult the freedom of religion of others, and even worse, you create disgusting, unspeakable cartoonsabout the people's God, the most sacred belief of their lives, they will shoot you, no wonder!!!.. Everything happens according to God's will and God punished them for insulting the Holy Spirit just like they deserved."
Extremist statements because of religious critique
Extremist statements were connected to both Charlie Hebdo cartoons and critique of the Patriarch by Identoba organization leader Irakli Vacharadze:
Pirveli, 9 January
Nikoloz Mzhavanadze, The Rights Defenders Union: "I want to tell everyone – nobody should imagine in his sick mind that he may do something like this [cartoons on religious topics] in Georgia. We shall not allow this. This cannot happen in Georgia. I know there will be such attempts, because unfortunately in Georgia they take everything bad from foreign countries".
Pirveli, 9 January
Zviad Tomaradze, National-Religious Institute: "For several years there has been an attack against the Orthodox Church and traditional family. This is the aim of that grant-eatingleeches who are directed from foreign countries and who fulfill their orders.They are spies and organizations that fight against the Georgian interests."
Pirveli, 9 January
Lado Sadgobelashvili, Free Generation: "...If unbridled and insulting actions continue, we promise we shall defend our religious values with our own forces and won't allow the atheist-Bolsheviks to defeat the Christian religious people."
Kviris Palitra, 9 January
Ani Darsalia, Free Generation: "We believe we must end the existence of organizations like Identoba once and for all. They exist only to insult our religion."
Obiektivi, Night Studio, 29 December
Elizbar Javelidze, People's Assembly: "Today Adjara is subject to the cultural expansion. Expansion from the neighbor country… Today the architecture, art, education, religion are all different and we have nothing Georgian there...
The population only in Batumi is 120 thousand, there are 30 thousand families, in other words 120 thousand Turks, and there are many educational institutions in Turkish language, I am not against the Turkish culture… but of this means that we must lose our own territory...
They invaded, and what is happening? Economy… is all theirs. The first floor has been taken by the Turks in Germany even, so won't they take it here in small Adjara?"
Xenophobia
Rustavi 2, Archevani, 30 December
Shalva Natelashvili, Labor Party: "Now they have abolished this moratorium [on selling land to foreigners] and it is over, those Iranians and whoever came here, there will be even more so called investors and in the end a peasant won't have even one apple."
Kviris Chronika, 5-11 January
Elizbar Diakonidze, deacon: "The government does everything to empty the country of the Georgians and for the territory to remain to the people of other nationality."
Kviris Chronika, 5-11 January
Giorgi Burjanadze, activist: Here the first floor is rented, and according to our information, the owner is an Arab, and late at nights things happen there that make me ashamed of living in Tbilisi...
Foreigners bring underage here and there isnest of depravity...
It is horrible when a foreigner comes to your city and does such things to a child who is very socially disadvantaged"...
Homophobia
Obiektivi, Night Studio, 30 December
Bondo Mdzinarashvili, anchor: "... Obiektivi dedicated a number of programs to this issue [anti-discrimination law], we were against religious minorities, ethnic minorities, people with disabilities and sexual minorities being united as one entity in a single law, to be under the same screen of rights' protection...
David Tarkhan-Mouravi, Patriots' Alliance: "In fact everyone knows today that the so called sexual minorities are less than 3% in the world. But they are disturbing the whole world. Disturbing with these endless demands of theirs...
Truth is, they also want to impose their ideology on us… We must not take this lightly."
Obiektivi, Night Studio, 11 January
Arno Khidirbegishvili, SaqinformEditor-in-chief: "Both Georgia and the world were silent when they laughed at the Orthodox Christianity, I am talking about Georgia, our Patriarch, but they screamed about protection of the national, religious, sexual rights. We remember that on 17 May, when we did not let the pederasts have their parade. Because nobody protects the majority, but minorities are protected by the anti-discrimination law."
Asaval-Dasavali, 29 December -11 January
Dito Chubinidze, journalist:And then you have toprove to foreign and local liberasts NGOs that a Georgian man is a Georgian man first of all, and only then an MP, minister, singer, sportsman orjournalist!"
Kviris Chronika, 30 December - 5 January
Giorgi Jikiashvili, journalist: "We also know that like they say, this political parasite [Levan Berdzenishvili] went into a prison long time ago, and went out of it as a woman...
Political pederasts in soul (and even flesh), liberasts like Berdzenishvili, know very well that while Georgians are Georgians, a Georgian man will not forsake his manhood and won't start giving his ass...
Two years ago, on 17 May, someone tried to have a pederasts parade in Georgia for the first time, also someone dared to begin to talk about legalization of sodomite marriages for the first time. But there was also another calamity. First, Usupashvili's Parliament adopted the anti-discrimination law, then we signed Association Agreement with the EU, and signed up to many anti-Georgian obligationswritten in that document."
Kavkasia, Dghes, 31 December
[Archive]
Zaza Papuashvili, member of Parliament:I don't need to run after every homosexual and hit their heads with something, I don't care who does what… [But] I will never support legalization and propaganda of this.
"Gays in Islam: Contradiction or a Given?"
Material concerns Islam's attitude towards homosexuality and presents experience of the countries where homosexuality is punished by death or lengthy imprisonment.
Gender issues
Public Broadcaster, Moambe, 7 January
Ilia II, the Patriarch: "Husband is the head of the family, for he has received from God the responsibility to protect his wife and children as required, to be faithful leader and producer;
And woman has no less purpose. Her main function is to have children, to bring them up and to take care about the family, which does not exclude the possibility of her public activity."
Geworld.ge, 9 January
Marine Le Pen, National Front: Nobody knows what the gender theory is. United States forced us to introduce this global method, which has brought terrible results. It says that I am not a woman and Ludovic is not a man...
We must tell the children that they don't have sex. Unisex. They must choose whether to be women or men."
Alia, 30 December
Irakli Lomaia: "This woman will do enough for me to actually rape her!... And then she will certainly say she had been a virgin"...
Anti-Western sentiments
Asaval-Dasavali, 29 December -11 January
David Saganelidze, Georgian Dream: "Unfortunately, in both Europe and America there are too many politicians with rotten minds just like Saakashvili, who let themselves criticize the present government only because it has chosen the right road."
Asaval-Dasavali, 29 December -11 January
Nino Burjanadze, United Opposition: "...The West and Europe laugh at us, at both people and government, by this [presence of the former President Mikheil Saakashvili at the ratification of the Association Agreement in the European Parliament] they tell us that they don't care what the Georgian people and Georgian government think."
Nino Burjanadze, United Opposition: "...We are not seen as a sovereign state anymore, and this was clearly demonstrated when our strategic partners told us that if the government decides to have a meeting with Russia, we have to ask them about it. And in Ukraine wanted Georgian officials are being given offices, thus we… are seen as a territory, which is within strategic interests".
Elizbar Javelidze, People's Assembly: "Unfortunately, this policy continues, it is directed to destroy Georgian culture, science and education. These are deep roots. This is coming from the West and US, and is directed against culture and education, because they want to finally destroy Georgian traditional culture, to introduce multiculture, and a result of this to change the structure of the Georgian thought."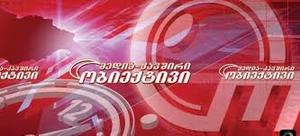 Obiektivi, Night Studio, 11 January
TV viewer: "It was America that punished France for lenient attitude towards Russia and trying to weaken sanctions against Russia [about terrorist act against Charlie Hebdo]...
Arno Khidirbegishvili, Saqinformeditor-in-chief: ... I openly claim that what happened there was done by American intelligence services… Holland made a statement that the sanctions against Russia made no sense anymore, France and the West in general suffer civilizational disaster, not just economic one, and America punished him in response."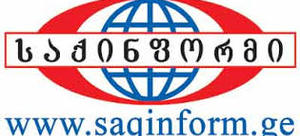 Arno Khidirbegishvili, Saqinformeditor-in-chief: "Georgia will be called transit territory with gas pipelines, railroads and highways, with a US military base a NATO camp training international terrorists"...
About Georgian mercenary Grigolashvili, killed in Ukraine, who had been taught to murder by Americans in Iraq, and Saakashvili first fired from the Georgian army, then hired him for the Georgian Legion in Ukraine, and then killed him for the sake of black PR against Garibashvili."
Marine Le Pen: "They (EU) force us to let in migrants and legalize gay marriages".
Asaval-Dasavali, 29 December-11 January
Gia Sulakvelidze, psychoanalyst: "There are secret laboratories for psychological projects, where the masters of the so called new world order create special programs to be tried on the developing third-rate countries. Georgia has been functioning as a polygon for these laboratories for more than 20 years."

The newsletter was made possible by generous support of the American people rendered through the USA Agency for International Development (USAID).

The contents of the newsletter are responsibility of the Media Development Foundation (MDF) and do not necessarily reflect the views of the USAID and USA.