On September 6 Civic platform No to Phobia! made a statement regarding a racist expression of Zaza Mamaladze, Saburtalo District majoritarian candidate of the "Alliance of Patriots" and called on this political party not to make hate speech a part of its election campaign.
An MDF study concerning the use of hate speech against religious minorities appears in the 2015 International Religious Freedom Report of the U.S. Department of State
Media Monitoring
Examples of results of the media monitoring for 1-30 August:
Obiektivi, Night Studio, 3 August
David Tarkhan-Mouravi, Patriots Alliance: "Turkey has always been a threat for Georgia, always has been a conqueror, an enemy of Georgia, Turkey made the Black Sea red with the Georgian blood. And they took away young girls and boys instead of money, each year. They have bled us dry for a thousand years. 33% of our lands are in Turkey today. There are half a million Georgians who lost their faith, Georgian identity, who are losing their language and don't know their names and surnames anymore. Turkey will never be a friend to us, and even now Turkay says that it wants Batumi, Ozurgeti, Akhaltsikhe. We must understand that it will always be an enemy state."
Asaval-Dasavali, 15-21 August
Dito Chubinidze, journalist: Before we call Turkey a friend, strategic partner and ally, perhaps we should read the Great Book of the Wilayah of Gurjistan [16th century Ottoman administrative manual] and see the dark and bloody story of Georgia being destroyed!..  The bitter truth must be said – the Turks and Persians were hunting beautiful Georgian girls and boys to improve their own genetics.
Asaval-Dasavali, 8-14 August
Nikoloz Mzhavanadze, the Rights Defenders' Union: Saakashvili did everything Turkey wanted in Adjara, did not he?! The people that the patriotic movement brought back to Christianity in the highland Adjara, Saakashvili pushed them back to Islam and sent our blood and flesh to the madrassas! The situation is most difficult… There is only one solution – Russia must become the guarantor of Adjara's unity with the Georgian homeland!
Asaval-Dasavali, 22-28 August
Soso Shatberashvili, Left Wing Alliance: Sandra Roelofs is a person without nationality! She comes from the Roelofski family that emigrated from Czechia to Holland! I cannot say why they are ashamed of their Jewish surname which they changed into Roelofs! And Saakashvili is also someone without nationality! He also hides his Armenian origins, doesn't he?! Why is he so ashamed of being Armenian?
Asaval-Dasavali, 15-21 August
Zhani Sikharulidze, journalist: Before Saakashvili put Plekhanov avenue into gypsum, tore down the trees and then sent there the Turks, Arabs and Jews, that avenue is the heart and soul of Tbilisi… I walked on Plekhanov the other day (sorry to the great Aghmashenebeli, but I still call it Plekhanov), and I almost got a heart attack – it is full of the Turkish cafes, there are Indians singing, and Arab women in black clothes walk all along the avenue.
Irakli Machavariani, Shevardnadze's former conflicts advisor: If my grandchild is called Abdulla and has Ibn Something as a surname, I will cut his throat with my own hands… I want a child and a grandchild of my own culture and my mentality, not an Arab or Turk!
Asaval-Dasavali, 8-14 August 
Vakhtang Kharchilava, editor of the Saerto Gazeti newspaper: Politicians of the non-Georgian origins lead the country today and to be honest, they are Armenians with changed surnames. Koba Davitashvili said in the past that that man is an Armenian with origins from Kaspi, and the stones from his ancestors' graves have disappeared!.. Him being Armenian would not have harmed this country more than him being Georgian has done.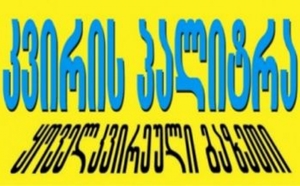 Kviris Palitra, 1-7 August
Headline: "The Nationals and Jehovah's Witnesses – don't knock".
Mari Japaridze, journalist: I saw these words written on an angry man's door: "The Nationals [UNM] and Jehovah's Witnesses – don't knock"...
Asaval-Dasavali, 15-21 August
Giorgi Razmadze, archpriest: Who asked President Margvelashvili to invite the Pope, why was that necessary?! When you are the first official in the country you should know who you are inviting and what can happen as a result!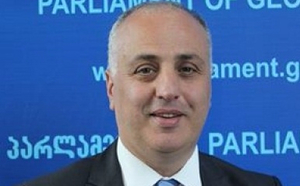 Dimitri Khundadze, Georgian Dream: Regarding this wrong attitude that perhaps one day same-sex marriages are legalized – this will never happen. So I think, if the referendum on this issue is held, this fear will be gone, that will prevent this fear.
Asaval-Dasavali. 29 August - 4 September
David Kvlividze, archpriest: The present time shows that faithlessness has increased. Large masses in the world say that sodomy is a norm, that the institution of virginity is not needed... That is why the Church calls on the society to wake up!
Asaval-Dasavali, 15-21 August
Giorgi Gigauri, journalist: A man will never be called a wife in Georgia! 
Prime Time, 15 August
Zaza Gabelaia, a post by a UNM supporter: "Don't anyone dare and tell me that he is not gay [about Kakha Kaladze]. Observe and enjoy, Georgian Dream supporters, this is how pederast's clothes look. This person is one of those gays who are with both women and men. If you don't know, do research about it. He should be appointed the minister for pederasts and lesbians."
Asaval-Dasavali, 15-21 August
Giorgi Gigauri, journalist: The American establishment is obviously pro-pederast!.. And if we take into account that pederasty was taken out of the list of illnesses on the basis of the American psychologists association report, it gets even clearer what are the global anti-human goals of that group!
Giorgi Razmadze, the chief cleric in the Avtchala St. Kethevan Church: "We should hold a referendum on the only issue today – whether we want the sodomite Europe. This is the fundamental question, the principled approach."
Alia, 8-14 August
Malkhaz Dzidziguri, Anti-National: "What was happening in prisons was requested by America and the West! They wanted to turn as many as possible into pederasts, so that we get more easily integrated into their filthy and immoral society ".
Obiektivi, Night Studio, 26 August
David Tarkhan-Mouravi, Patriots Alliance: We have always treated ladies very well and I am very happy about it. And I think that Madam Sandra is the UNM candidate because she is a lady and the attitude towards her is much softer. 
Archpriest Ekvtime: "Girls, don't let boys touch you, unless he becomes your husband. I can kneel before you if you want. The country has become filled with whores." 
See full collection of examples of discriminatory statements at the website: www.notophobia.ge
Newsletter was developed by Media Development Foundation (MDF) within the frameworks of the Promoting Integration, Tolerance and Awareness Program in Georgia, supported by USAID and implemented by UNAG.
Opinions and ideas provided in this newsletter are those of the Media Development Foundation (MDF) and do not represent the official position of the U.S. Agency for International Development and the UN Association of Georgia.