INTO THE LIGHT - LIGHTBEARER #1
They were supposed to be enemies, not lovers. Tanner Lyons is a shifter without a pack, which is just the way he likes it—until he rescues Olivia Bennett, princess of the Lightbearers. Suddenly, he finds himself fighting an attraction that makes no sense, because Lightbearers and shifters have been mortal enemies since the beginning of time. Intrigue, adventure, magic, and passion – you'll find it all in Into the Light, Book 1 of the exciting new fantasy series, Lightbearers. 
THIS WEEK ONLY you can start this series for 99 cents. Grab it now. Grab it here.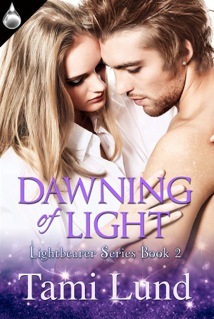 Finnegan Hennigan meets his match in spunky Cecilia Druthers, a woman he can barely stand. Cecelia's opinion of Finn? He's an oaf and a killjoy. But, opposites can't resist each other in Dawning of Light. You'll love Book 2 of this hot fantasy series, a saga about lightbearers and the shifters who hate to love them.  Start reading by clicking HERE.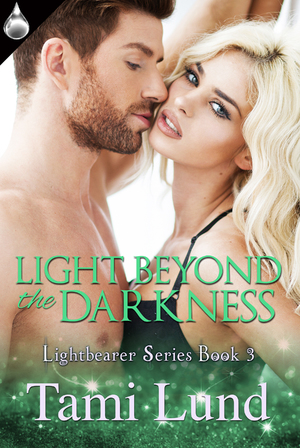 Wanting to forget the magical world from whence she came, lightbearer Carley Santiago seeks sanctuary in the human world. But when she meets shifter Reid Hennigan, she finds her heart is not so easily controlled. As passion turns to love, Carley finds that keeping secrets and hiding from her past could be dangerous for them both – fatally dangerous. Welcome back to Tami Lund's magical world in Light Beyond the Darkness, Book 3 of her paranormal romance series, Lightbearer. Pick it up HERE. 
Shifter pack master Josh Tigre doesn't know his human lover is using him. Rachel doesn't know he isn't human. Change In the Light is a wonderful addition to her paranormal romance series Lightbearer. Book 4 will have you on the edge of your seat as hearts become entangled and two worlds collide. It's anybody's guess where the pieces will fall and who will survive. Keep on reading the series HERE. 
COVER REVEAL!! Check out the cover of the 5th book in the Lightbearer series! Tots adorbs, eh?? My fave so far, I must confess! Oh, wait, you want to know when the book's coming out? And maybe what it's about?
Well, Cupid's Light is about these magical people called Cupids, and no, they aren't chubby babies with wings who fly around shooting people with bows and arrows. Far from it, in fact. And when shifter Matt Tigre finds out he's been assigned his very own Cupid, he's not particularly interested in finding a mate... Not unless the Cupid is interested in the job!
**RELEASING SEPTEMBER 5th**
The magical Lightbearers have been running from their enemy,shapeshifters, for as long as they've existed. Until one day Lightbearer Sabine Flemming refuses to back down when attacked... And produces a magical sword, attracting the attention of shifter Xander Wulf and the Lightbearer king, James Bennett.
 
Everything changed for the Lightbearers and their mortal enemy, the shapeshifters, in 1512, five hundred years before book one in the Lightbearer series, Into the Light, takes place. Find out what happened to propel into action a sequence of events that have set the stage for the rest of the series.
Grab it HERE.
Want more shifters?
Click the snazzy blue wolf to go to a cool Facebook group, where authors are constantly offering up new shifter and other paranormal reads! Feed your reading addiction here!
You should join my Facebook group, Come Wine With Tami. It's all about readers and authors, hanging out, getting to know one another, becoming friends. Oh, and wine. There are lots of wine memes and virtual wine drinking. Well, some of us, not so virtually.... Oh, and once a month, there's a Q&A session, featuring a different author each time. It's a chance to get to know your next fave author... Pour and glass and come join us!